Funny lady Melissa McCarthy, says she picked the massive grey jacket she wears on the cover of Elle magazine, and denies the women's glossy of any fat-shaming.
As soon as the cover for Elle's 2013 Women of Hollywood issue was released, critics were quick to lash out at the mag for hiding the actress' body under the dramatic woolen Marina Rinaldi piece.
McCarthy shares the November cover with other screen beauties including Reese Witherspoon and Shailene Woodley who are styled in figure flaunting outfits - the kind of images we're used to seeing.
Website Slate slammed Elle, saying the coat was so big "she could hide her Mike and Molly co-star Billy Gardel underneath."
They went on: "McCarthy's hair covers a quarter of her gorgeous face, and with her hands stuffed deep into her coat pockets, the only visible flesh is a tiny triangle between the coat's lapels and the briefest glimpse of calf.
Perhaps photographer Thomas Whiteside only knows how to photograph the usual stick insect models, because he clearly has no clue how to highlight McCarthy's curves."
Elle responded saying the piece was chosen because it was what McCarthy felt good in.
At a red carpet event in Hollywood last night, McCarthy said she didn't know what all the fuss was about.
"What I found so bizarre is I picked the coat. I grabbed the coat. I covered up. I had a great black dress on but I thought, it comes out in November. I was so sick of summer. I live in Southern California. I was like, 'Give me a big coat to wear. Give the girl some cashmere!" she told E! News.
McCarthy explained the situation on set: "They were like, 'The dress is really great,' but I was like, 'Yeah, but look at this.' I was just shocked I didn't steal it. Now I think I really should have the coat. I'm petitioning for that coat. Give me that coat. I earned it, damn it!"
Elle faced similar accusations for a cover back in 2010 that featured a bevvy of beauties. Curvacious Precious star Gabourey Sidibe was cropped at the chest, while slimmer covergirls, Megan Fox, Lauren Conrad and Amanda Seyfried were snapped from the knees up.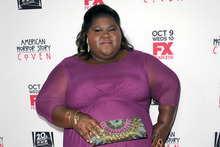 Elle denied any ill intent at the time, saying their choices for photography and styling were purely artistic.
- www.nzherald.co.nz