Home >

Fashion >

Mens Style >

Men's Fashion Week: A look at the Best Runway Trends for Fall 2014
Jan. 28th, 2014 | Comments 0 | Make a Comment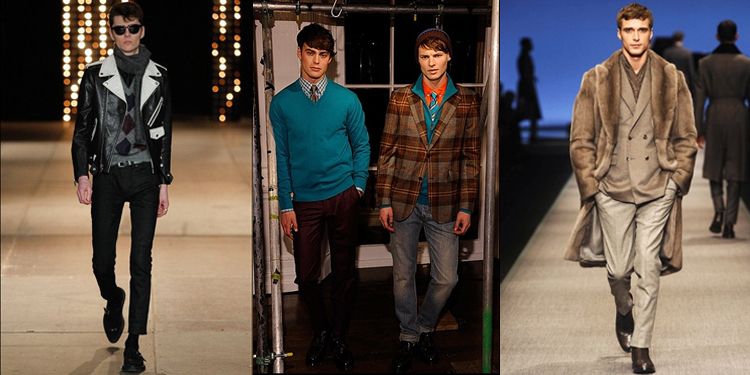 Courtesy Saint Laurent, Thomas Pink, Canali
With Men's Fashion Week Fall 2014 wrapping up just a few days ago, we thought we'd take a quick look back at what made all those men so undeniably stylish—because we know it couldn't have been just their good looks. Trends like man bags, rock-star leather jackets and lush velvet came down the runway in pretty wearable ways—perfect for outfitting your wardrobe come fall. And even if you're not the kind of guy who likes to follow style guidelines (you rebel, you), chances are you'll find a trend here that you'll be tempted to try.
Courtesy Valentino, Lou Dalton, Ermenegildo Zenga
Oversized Proportions
All over the runway men were dressed in pieces that easily looked two sizes too big; the tops were full, while pants were too long, but the tailoring kept everything looking sleek. It was awful and fantastic at the same time. Sure, no guy wants to run around looking like a slob that doesn't know how to dress himself, but some of these pieces had that casual style down. Inspired by what we can only assume were pajamas, most of these looks couldn't be worn in the office, but watch out when the weekend hits.
Courtesy Hackett London, Crombie, Thomas Pink
Three Piece Suits
Why hello there you dashing young man! We are loving that pulled together elegance that only a three piece suit can give. And even if there wasn't a vest under every blazer, cardigans were buttoned underneath to mimic the look of one. It was casual, but pulled together, and gave us a half-pause where we wondered if those male models were actually that hot or our eyes were just deceiving us. Plus the magic of a three piece suit, even a faux one, is you can wear it without having to do much else—people with think that scruffy look is just part of your style.
Courtesy Kent and Curwen, Burberry, Salvatore Ferragamo
Giant Bags
No, not like suitcases or briefcases—actual man bags. We don't mind the idea of you guys carrying around a purse of your own (murse, tote—whatever you want to call it to make it more masculine) since we know you have more than a wallet to take with you. Plus we've got to admit it looks pretty sleek—to pull off this look in real life find something a little smaller and more structured. The monstrous carpet bags some of these boys were lugging down the runway might be a touch overkill.
Courtesy J.W. Anderson, Oliver Spencer, YMC
Color Splashes
What's grey and navy and black all over? A men's runway show. While the collections this season were as drab as they usually are, there were little splashes of color here and there that gave us hope that the male population wouldn't fade into a sea of monochromatic neutrals come fall. So when we saw colors playing off the generally accepted uniform of men's winter wear, we got excited. You can bet you will be getting one colorful sweater come Christmas.
Courtesy Corneliani, A. Sauvage, DAKS
Velvet
There is nothing more luxe and fun to wear in the cooler seasons than warm velvet. This trend has been hitting both runways and red carpets with a fervor, and we couldn't love it more. Even when worn from head-to-toe this style looks put together and well-bred, giving you a way to wear a trend to its fullest potential. Sure you could just go for the jacket or shoes (Tom Ford has velvet sneakers!!!) but wouldn't you rather go all out?
Diesel Black Gold, John Varvatos, Alexander McQueen
Rock 'N' Roll
Seriously, every designer must have had the music on full blast when they designed these collections. Punk, classic, goth, '80s—every spectrum of rock was fully covered and re-imagined for the runway. Designer John Varvatos even went so far as to have a KISS inspired show and had the band walk the runway at the finale—because that, guys, is how you rock in fashion.

View original article –