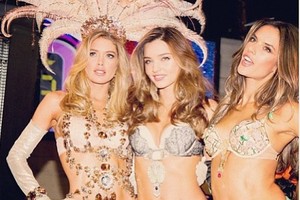 Miranda Kerr has been slammed for posting altered images on Instagram. Photo / Instagram
Supermodel Miranda Kerr has apologised for posting altered images of herself on Instagram.
Kerr added an image of herself backstage at the 2012 Victoria's Secret fashion show with fellow Angels Doutzen Kroes and Alessandra Ambrosio. She shared the snap on her stream with over 2.5 million followers on November 13, the night of the annual Victoria's Secret show in New York. Kerr - who is no longer an Angel - wished the ladies good luck with this year's performance.
However, hawk eye bloggers at Livejournal pointed out that the 30-year-old's waistline appeared to be digitally trimmed down. The model was then accused of posting several pics of herself with an artificially altered waist.
Kerr, who was in Japan with designer Micahel Kors when the online fury erupted, removed the picture, replaced it with the original and said she "had no idea" the one she grabbed from the internet had been Photoshopped.
Kerr posted: "Hi guys, here is the original VS image! When I re-posted the photo this week to support the girls I screen grabbed it off the internet when I was working in Japan. I had no idea it was photoshopped. All good intentions- sorry for the confusion and congratulations to the girls for such a great show!"
The Fashin blog at Livejournal has picked more discrepancies in the model's Instagram feed. Check them out here.
- www.nzherald.co.nz