Posted: Jun. 27th, 2013 | Comments 0 | Make a Comment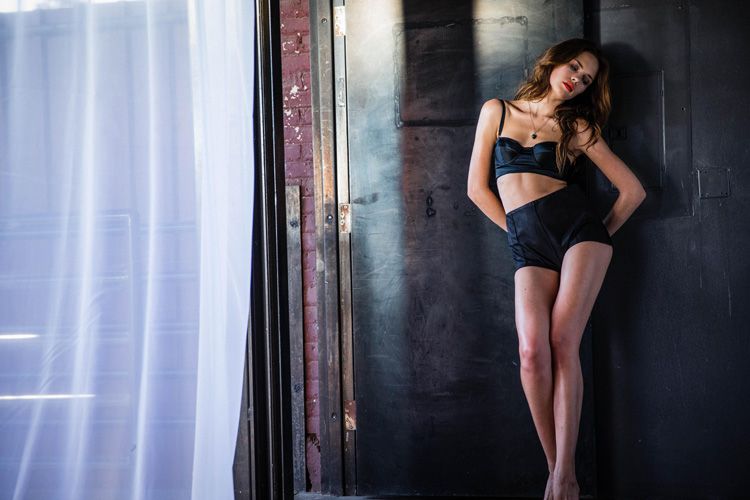 Photos Courtesy of NOE Undergarments
Until now the wind, sand, and surf had no place in your lingerie drawers, but NOE Undergarments is about to change all that. The brand new line that launched in Spring of this year doesn't leave much to be desired, or to the imagination. The flowing chemises and retro bustiers make running around in your underwear just seem like a good idea. Many of their pieces teeter on the edge of lingerie and ready-to-wear; which may prompt you to pair their orange bandeau bra with a long ankle grazing skirt for the summer.
Designed by twin sisters, Bonnie Rae and Shelah Jean, who grew up on the lush island of Kauai, Hawaii, their lingerie is meant to be an expression of the freedom and femininity that they felt growing up on the tropical beaches of their hometown.
A mix of the bohemian and the classic, their debut collection is amazingly modern; it's a twist we haven't seen in lingerie before, with structured lines amid sheer chiffon maxi slips and high waisted shorts. Bits and baubles of leathers and metal add to the design aesthetic allowing the sisters to show their love for antonymic styles. Still living in Hawaii, Shelah Jean adds to more of the bohemian flair, while Bonnie Rae, having moved to California for school, brings more of a city-life appeal.
This dynamic duo is creating for women very much like themselves, who want to feel comfortable, but still sexy. Fusing their roots of a Hawaiian upbringing into their travels to New York, California, Fiji, Indonesia, and Thailand, they've created a brand worthy of not just your bedrooms drawers, but of the streets and beaches of the city. Filled with loose contemporary fits and retro cuts with a bit of modernity these twins are moving undergarments from the indoors out.
With 44 items in total their new brand is starting off with quite a bang, with pieces available now on their website and retail locations throughout the states to follow. Their collections are bi-yearly with prices ranging from $65-$335.
You might like :

24-Karat Lingerie is Fit for Royalty
Related Topics : Womens Fashion, Sexy Lingerie, Swimwear, Fashion News
Continue reading here –