Beauty brand Sephora have pulled a lipstick shade called 'Celebutard' from their shelves after backlash from customers.
The 'Celebutard' lipstick, a creamy beige shade of Painted Love Lipstick by Kat Von D, started getting people, in particular disability groups, fired up on social media about a week ago.
Down Syndrome Uprising, Family Member, Inclusion BC and All About Developmental Disabilities voiced their dismay over the insensitive name, Huffington Post reports.
Sephora didn't respond for a few days, but Kat Von D, the tattoo artist behind the collection, reportedly Tweeted "At the end of the day it's just a f**king lipstick," before deleting the post.
Sephora then issued a formal statement to CTV saying they would pull the product and apologising for any offense.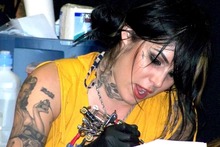 "It has come to our attention that the name of one shade of lipstick we carry has caused offense to some of our clients and others. We are deeply sorry for that," it said.
- www.nzherald.co.nz