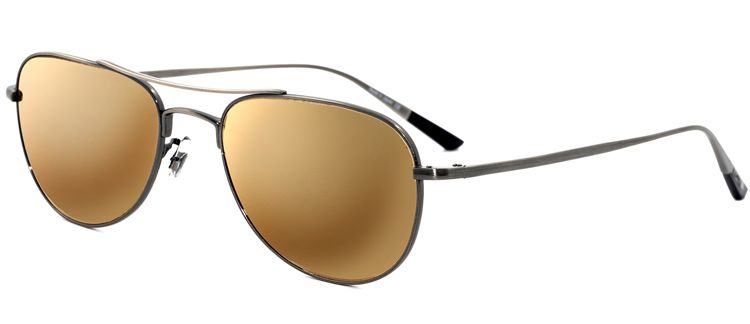 Photo Courtesy of Oliver Peoples
In a new collaboration with mytheresa, Oliver Peoples has released a new set of unisex sunglasses that feature exclusive design and luxury. The new glasses come in two different versions, a gold frame with 18kt gold lenses and a pewter frame with 24kt gold lenses. Chosen and created by Oliver Peoples founder Larry Leight, and mytheresa buying director Justin O'Shea, the two built the look off their mutual love for the 70's rock-n-roll vibe. "When Larry and I started discussing the new mytheresa exclusive collaboration style in his office in West Hollywood, we simultaneously gravitated toward a Jim Morrison inspired photo on his desk," said O'Shea in a press release. The mirrored aviator style lenses do reference a bygone era of classic rock, but without the parties and with added style. The pewter and 24kt gold shades are hand-molded frames with a double bridge and feature precious metal lenses. While crafted in pewter, the frames have a subtle enamel emblem of the Oliver Peoples logo and the colored mixtures of metals allows for it to be paired with any outfit—plus it doesn't get any more luxe than gold lenses.
Available exclusively at mytheresa. Priced at $850.
This article is from: