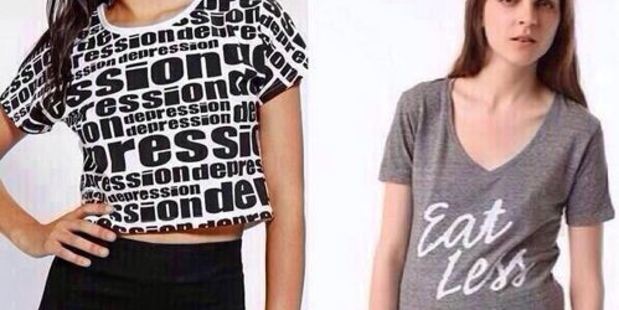 Urban Outfitters latest controversial t-shirt, the 'depression' tank alongside a previously offensive tee. Photo / Twitter
Popular street wear retailer, Urban Outfitters, has come under fire again, this time for a lady's tanktop with the word "depression" printed all over it.
The 'depression' shirt caused a raucous on social networking sites after one Twitter user published a picture of it alongside the controversial 'Eat Less' t-shirt pulled back in 2011.
Urban Outfitters were quick to issue an apology via Twitter and explained that the tank was designed by a Singapore-based label called depression.
Director of women's apparel and accessories at Urban Outfitters, Laura Johnson, said they were trying to support a small brand, not glamorize mental illness.
"We did not create the Depression brand logo tee shirt and it most certainly was not a social statement of any kind," she said via email to fashionista.com.
"It was brought to our attention that customers were offended by the product. Though is was not intended to exploit mental illness, we respectfully removed the product as to not further upset anyone. We're sorry to those offended by the tee. We were trying to support a small brand, not glamorize mental illness in any way."
Depression label designer Kenny Lim told fashionista.com how the print came about.
"It was the first and only time we have our logo printed across the shirt.
"The logo t-shirt was originally a men's t-shirt that was sold in Singapore for our fans. It was sold out very quickly. Urban Outfitters had requested for the same style in a women's cropped top."
Read more about about the inspiration behind the questionable name for the brand here.
In 2012, Urban Outfitters' St Patrick's Day collection in 2012 was slammed for promoting unfair stereotypes and binge drinking.
Read more here.
- www.nzherald.co.nz