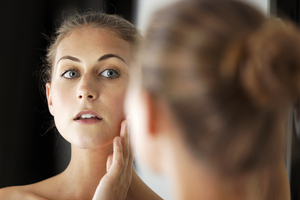 Women spend nearly an hour a day picking apart the way they look. Photo / Thinkstock
Women spend 335 hours, or about two weeks each year, doing their hair and makeup, a new survey has revealed.
The Today/AOL 'Ideal to Real' body image survey asked more then 2000 adults and 200 teens aged over 16 how much attention they dedicate to their looks.
It revealed women dedicate an average of 55 minutes each day focusing on their face.
The online study also delved in to deeper, more concerning aspects of appearance and self-worth. It found 67 per cent of women had negative thoughts about themselves each week.
Worse, 78 per cent of teen girls get caught up in self-criticism weekly. Eighty per cent of girls admitted they compared themselves to celebrities and nearly half were left feeling bad about the way they looked.
Adult women were more worried about the way they looked than finances (62 per cent once a week), health (49 per cent), relationships (46 per cent) or professional success (40 per cent).
On average, a woman fret about six parts of their body - their biggest concern was their belly, followed by their skin, thighs, hair, cellulite and butt.
Of the men polled, 53 per cent admitted to worrying about the way they look each week. They had three main concerns - their stomach, thinning hair and skin. However, their number one worry was money (59 per cent).
"It is not a bad thing to be invested in our appearance," Jonathan Rudiger, a clinical psychologist in Nashville, told Today.com.
"Our physical appearance is very much a part of the 'self'.
"However, we must avoid investing in our appearance for self-worth. Appearance is only one aspect of the self. In our culture, we spend too much time focused on the external while neglecting the internal."
Check out details about how the study was conducted here.
- www.nzherald.co.nz