Posted: Jul. 16th, 2013 | Comments 0 | Make a Comment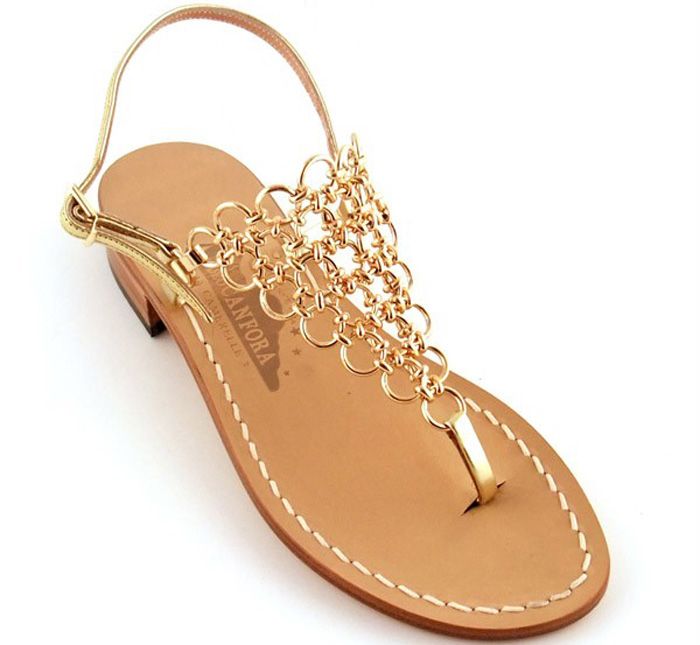 Any woman that was told she could wear the same shoes as Jackie O. would jump on the chance in a heartbeat. To be quite honest we'd probably take the same anything as her right down to those big sunglasses. Capri, Italy's own Canfora sandals were a favorite of the late fashion icon and first lady. The K sandals are the same that Jackie used to wear; they're still a bestseller today, and with every sandal made to measure and handcrafted it's no wonder she was a fan.
Established in 1946 in post-war Italy, Amedeo Canfora opened his sandal shop in Capri, catering to the sudden upthrust in tourism. When word spread of the quality of his work, socialites, celebrities, and royalty alike, came to have a pair of Canfora sandals made just for them. In 1962 Jackie O. had requested that the shop be opened specifically for her to go shopping alone at midnight, Canfora acquiesced, giving her the privacy and peace she desired.
Made with 100% Italian materials, these handmade sandals are a brilliant display of quality craftsmanship. Now in its third generation of artisans, the mastery of creating the perfect sandal has been passed down through the Canfora family. With iron arch support inside the layers of the Italian leather sole to help keep its shape year after year, the pieces are all sewn together to create a lasting quality. Every strap is made from Italian calf or goat and Italian costume jewelry decorates every shoe. There are several heights to choose from flat to about 2.4 inches. The flat heels are the original, designed with a rubber heel to prevent slipping and offer more support specifically for walking the hilly streets of Capri.
The shoes are made to please, varying in simple designs to the over the top (and slightly garish) Michelle, named after our current first lady. If decorative American flags are not your style, Canfora has a whole collection dedicated to the sandals Jackie O. wore. Having grown over the years some other collections now feature bells, gemstones, antique medallions, and sea creatures. Whether you prefer to slip your feet into golds, chains, gems, or leather, you can still style like Jackie O.
Now all you need are those glasses.
Canfora sandals are available at their workshop on Capri and online. Prices range from $180-$550.
You might like :

Jimmy Choo Protégé Steps into the Spotlight with Funky Shoes for Summer
Related Topics : Summer, Shoes, Celebrities, Fashion News
Link –