Shannon Ryan, host of TV3's The Block NZ talked to Spy boys Ricardo and Andy about looking forward to Auckland Cup Week.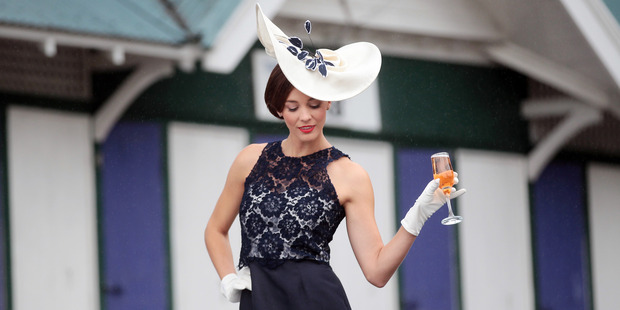 TV personality Shannon Ryan models at Ellerslie Racecourse. Photo / Doug Sherring
Shannon, as the face of TV3 Derby Day, what are your expectations of the day?
The first time I went along to TV3 Derby Day Kimbra performed, and what an incredible day that was. Everyone was having a great time getting involved in the day's events and I don't expect that will change, they always have a fun day lined up. I hope the sun comes out to play, too.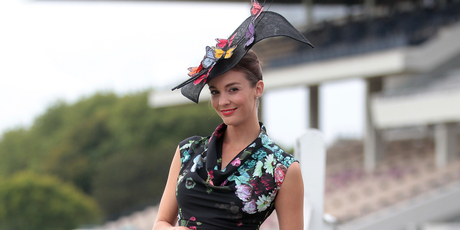 TV personality Shannon Ryan. Photo / Doug Sherring
Are you a regular at Ellerslie? If not, please tell us about a favourite day at the races.
I've only been a handful of times. My earliest memory was when my grandparents were driving through Auckland and decided to take a detour and show us the races. We had two horses on the farm, Soxy and Bobby, but they were chilled-out farm horses that were companions. I was blown away by the action at the evening races and the dresses little girls were wearing. The most Soxy and I had done was get the cows in.
Do you know your stuff when it comes to horses? How do you pick them?
Can I liken this to choosing a bottle of wine? Ha ha. I am drawn to a good name, much like I choose a bottle with a nice label. But I apply what I do anywhere I'm unfamiliar with; I pay attention and get tips from people who don't know I'm listening, so watch out!
Derby Day is traditionally black and white for the ladies. What will you be wearing?
I will be wearing Natalie Chan, which is lucky as I may have turned up in all the colours of the rainbow. Although there are guidelines with black and white I think it will be fun for women (and men) to use the brief to play around with some fun outfits. One time I took Soxy to our local pony club for dress-up day. Without too much consideration I entered as the Mexican character from the CC corn chips TV ad. With a patchwork knitted blanket from my grandma, a poncho, sombrero and a packet of CCs at my side, I was good to go.
TV personality Shannon Ryan. Photo / Doug Sherring
I was also the only girl not wearing a fairy dress. I didn't place, but got a free chocolate bar.
What are your plans for this year?
I have returned from a two-month adventure in Hawaii. With castings open now for season three of The Block NZ, I'll be trading my beach wear for building site attire in no time.
Stylist: Tracey Dalton; navy lace dress, hat and gloves from Natalie Chan; top and skirt, hat, flowers and gloves from Natalie Chan; black and white floral dress, fascinator and belt from Alannah Hill, glasses stylist's own; floral dress, clutch and cuff from Ted Baker, hat from Natalie Chan.