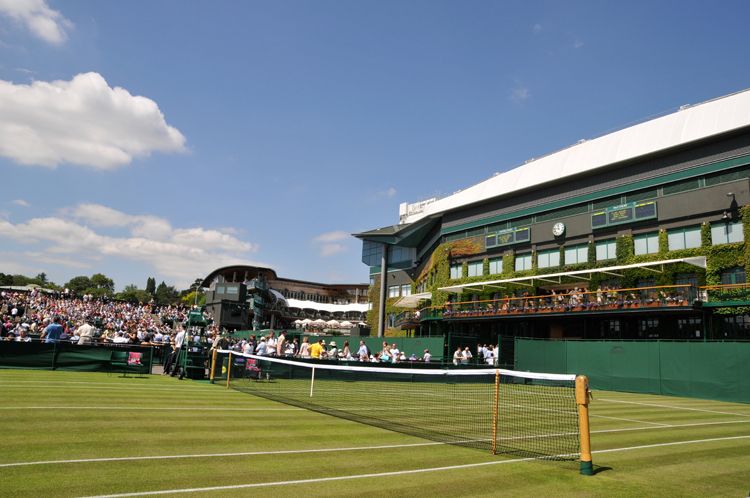 Photo Courtesy of Shutterstock
Now that we're down to the final week of Wimbledon, the matches have become more enthralling than before. If you were lucky enough to snag a ticket and have another week of tennis and strawberries to look forward to, then you probably want to dress your best. So whether you go for the love of the sport or the love of Feliciano Lopez, here are just a few ideas for bringing a little Wimbledon into your wardrobe.
While the players are restricted to an all-white ensemble (although seven time Wimbledon champ Rodger Federer broke the monochromatic white rule this year with his orange-bottomed trainers), the spectators do not have a strictly enforced dress-code. It's generally expected that one dresses as they are going to a special event (do not read
sporting event
) and refrains from jeans, midriffs, or mini anything.
It is summer in England and even though it's always raining, the season can conjure up images of garden tea parties and wide brimmed hats. Wearing a knee length dress with a burst of floral pattern and an all-white background, will keep you looking seasonal and lady-like. Dolce & Gabbana floral day dress priced at $1,325.
Shoes should vary depending on your dress, with color you may need a pop of white and vice versa. Either way low heels (demure is the name of the game) are going to be your best friends. Sandaled wedges can do double duty; in the event the weather turns around you can always use them by your hotel pool. Manolo Blahnik Varchi Mixed-Media Wedge Mule priced at $685.
A little bit of Burberry plaid can go a long way. The iconic British fashion house has been around for over 150 years and can help to show the bloke sitting next to you that you can appreciate the finer points of Great Britain. Except that nasty weather. Why did you think you'd need an umbrella in the first place? Burberry Waterloo Check Walking Umbrella priced at $450.
And if for some reason you didn't realize white was the color of the game, no need to panic. Just throw on a white jacket and it will pull your whole outfit together; because white goes with everything — except orange trainers apparently. Mason by Michelle Mason Open Front Shawl Collar Jacket priced at $690.
Visit link: