Domenico Dolce and Stefano Gabbana had a little help taking the spotlight off their legal woes when a streaker crashed their menswear show in Milan.
Once the models had wrapped up the show on Monday morning (local time) and the designers were coming to stage to take their bows, a naked man wearing nothing but red trainers ran on to the catwalk, waving his hands in the air, shouting.
According to GQ's Matt Sebra, "While the designers come out for their bow and turn to walk backstage, from down the other end of the runway a guy rips off his clothes. (Not sure if it was breakaway suit or what.) Full freeball."
The tattooed man, who's identity is not yet known, pulled a series of strange gun-like expressions, skipping around stage, dodging security guards, the Daily Mail reported.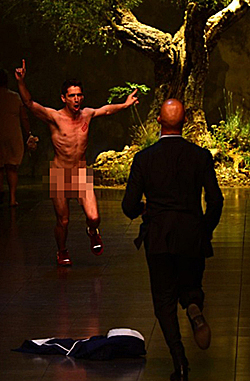 The man was eventually tackled to the ground by bouncers, still raising his arm in triumph to the audience.
Last week, a Milan court convicted the designers of tax evasion.
The pair were found guilty of failing to declare 1 billion euros (NZD$1.7 billion) in income to authorities. The court sentenced them both to one year and eight months in jail.
It's not known if the streaking incident is linked to this.
- www.nzherald.co.nz