As Fashion Week festivities came to a close, the stylish folk flocked to Fashion Weekend down at the Viaducts Events Centre. Style File finders and gents about town (pictured above l-r) Ricardo Simich and Andy Pickering (aka the Herald on Sunday 'Spy boys') scoped out the coolest looks, while Life & Style Editor Nicky Park picked her favourites.
Street Style:
Fashion Weekend crowds were mostly populated by the public, with a sprinkling of industry fashionistas, bloggers, designers and photographers. It was a melting pot of labels and trends - not surprisingly we noticed well-loved Kiwi favourite Glassons popping up a lot for the ladies, proving the old adage that affordable chain store pieces mix well with designer labels to create a strong look. Another trend was statement shoes - from big boots to high heels and open sandals, it was all about shoes screaming "look at me!" The the must-have accessory for Fashion Weekend? A cool Canon DSLR camera.
Editor's Picks:
This week Style File focused on the coolest looking Kiwis playing dress-ups around the stunning Auckland harbour, steering clear of the social set. So I've picked for you the best dressed dame and dude from their stylish street snaps.
Rebecca Hooper (l): I love the class of this monochrome combo, with a hit of print to jazz it up. Air NZ Lounge Manager, Hooper, looks sleek and sexy. This is an outfit choice that you would never live to regret.
Patric Seng (r): This photographer gets my vote, mostly for the attitude that penetrates this picture in that steely gaze. I'm also a big fan of his casually pulled on biker boots and admire Seng's bravery in wearing a white pant.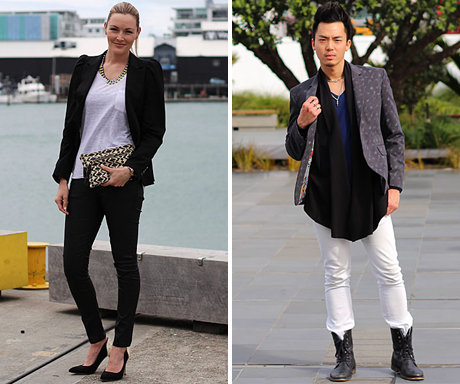 Check out last week's Style File here.
Follow NZ Herald Life & Style on Twitter. Follow our Style File spotters Andy Pickering and Ricardo Simich on Twitter.