This week's Style File comes to you from the streets of New Zealand's favourite snowbunny city, Queenstown. Gents about town (pictured above l-r) Ricardo Simich and Andy Pickering (aka the Herald on Sunday 'Spy boys') flew to the South Island for the Veuve Clicquot Snow Festival and filed quirky looks in this week's roundup.
Street Style: The roads of Queenstown are lined with black puffa jackets, humorous hats and black wool tights. So, Style File went hunting for quirky looks that pushed the boundaries of boring snow fashion. Who's your pick of the bunch? Have you noticed any snowy trends this year?
Hot and Not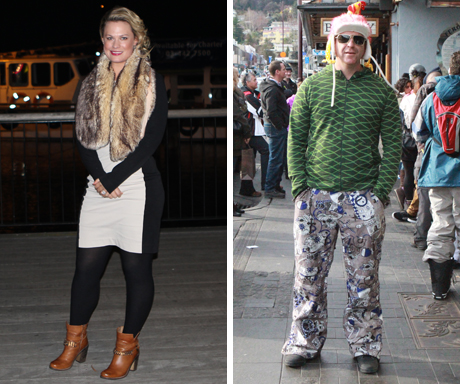 Best Dressed (left): Kathryn Wilson - Designer
Kathryn Wilson rocked old school glamour at the Veuve Clicquot Degustation at Pier 19 in Queenstown last week. She chose a Celine Rita faux fur over a Juliette Hogan Dress, Wolford stockings and Kathryn Wilson shoes (of course).
Worst Dressed (right): Paul Brophy - Barrel of Laughs
Style File usually pick on the worst dressed high profile people at events. But in Queenstown, they took it to the street (with permission granted). Even though wacky hats are on trend, they couldn't resist this eye-popping awful pattern clash. This guy was spotted outside Ferg Burger (where else) wearing a Mac Pac jacket, Grenade trousers and, yes, that's a comedy chicken hat.
Check out last week's Style File here.
Follow our Style File spotters Andy Pickering and Ricardo Simich on Twitter.