Here it is for your Monday lunch: this week's fashion wrap, Style File. Gents about town (pictured above l-r) Ricardo Simich and Andy Pickering (aka the Herald on Sunday 'Spy boys') have kept a close eye on the social set to bring you their best and worst looks. They've also been scouring the streets for Kiwis that catch their eye, what's on trend and people pushing boundaries. Did they get it right? Who's your pick of the bunch? Share your thoughts in the comment section below.
Street Style: Street style went to Takapuna and Ponsonby this week looking for some hot winter looks. Next week we'll be in Queenstown for Veuve Clicquot in the Snow looking for the best winter fashion and apres ski style.

Hot and ... Hot!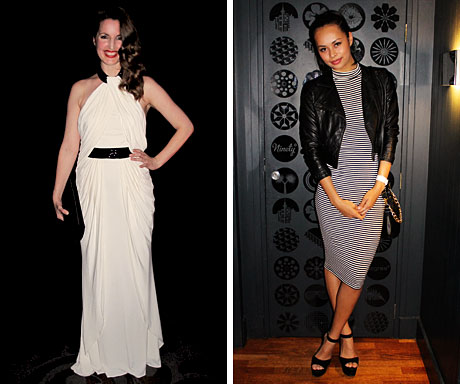 Best Dressed (left): Amanda Gillies - News reporter for TV3
TV3 news reporter Amanda Gilles turned on the charm at the Bakels Supreme Pie Awards dinner at the Langham this week. Strangely for an event that celebrated the humble mince & cheese pie, the theme for the evening was "Venetian masked ball". Amanda used the opportunity to channel her inner Grecian goddess and didn't she do well!
Dress: George Crème Grecian style dress with black detailing
Shoes: Vintage patent pewter heels
Joint Best Dressed: Frankie Adams - Shortland Street Actor
19-year-old Shortland Street star Frankie Adams proves that you don't have to wear expensive designer labels to pull off a killer look, (though a gorgeous face and stunning slender frame help). Wearing a striped Glasson dress nonchalantly offset by a vintage leather jacket, Frankie looks relaxed and effortlessly cool. She was at the ZM Radio Sessions party at Degree bar.
Dress: Glassons blue & white stripe
Jacket: Vintage cropped black leather
Shoes: Top Shop
Check out last week's Style File here.
Follow our Style File spotters Andy Pickering and Ricardo Simich on Twitter.
* Style File was shot on the Samsung Galaxy Camera.