Welcome to the weekly Style File. Gents about town (pictured above l-r) Ricardo Simich and Andy Pickering (aka the Herald on Sunday 'spy boys') will be scoping out the social set to bring you the best and worst looks. They'll be scouring the streets for Kiwis that catch their eye, what's on trend and people pushing boundaries. Check in every Monday lunch time on Life & Style and share your comments below.
Street Style:
This week we spy the best fashion looks from the streets of Auckland.
Hot & Not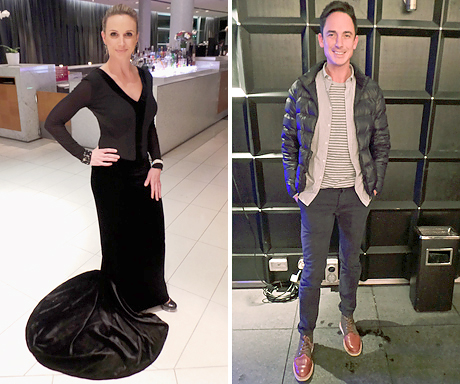 Best Dressed (left): Shortland Street minx Beth Allen
Beth Allen stole the show as ambassador for The Auckland Gynaecological Cancer Foundation.
She took the stage to MC the Glamorous for Gynae Gala dinner at the Hilton in a stunning World Couture evening dress with tonal detail of black satin and chiffon. The gown comes with a full length train, showed off expertly by the beautiful Allen.
Worst Dressed (right): X Factor Host Dominic Bowden
Dominic Bowden rocks the stage in designer suits, but when he turned up to The Highlife Winter Social on Saturday night the host with the most looked strangely out of his depth. It was a black tie event, but Dom ditched the suits for a cool, but inappropriate streetwear look: Barneys black puffer jacket, Workshop shirt, T and jeans and Vanishing Elephant shoes.
Follow Andy Pickering and Ricardo Simich on Twitter.
* Style File was shot on the Samsung Galaxy Camera.