Home >

Fashion >

Mens Style >

Stylish Kicks: The Snazziest Sneakers To Sport Through Spring
Apr. 7th, 2014 | Comments 0 | Make a Comment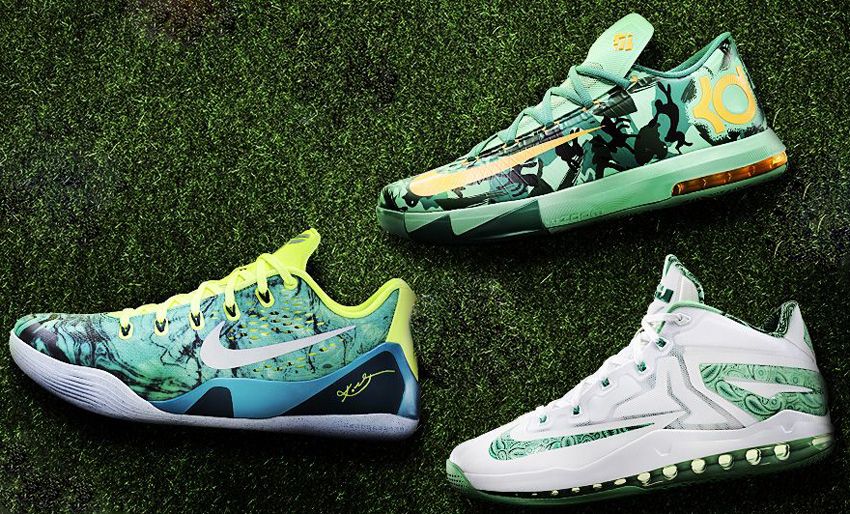 Photo Courtesy of Nike
Thursday New Yorkers incited a riot while waiting in line for the launch of the Supreme x Nike collaboration. Let me repeat that. A bunch of full grown men got into a fight—over shoes. Sure, women are big fans of heels, and you'll see our closets filled to the brim with stilettos, flats, sandals and boots in every shape, style and color, but we aren't starting street fights over them. Yes, every now and then someone has a bit of a tussle at a sample sale, but never a brawl. But that got us thinking—if men are willing to go full-out nutso over a pair of kicks, maybe they're not as averse to fashion as we originally thought? Sifting through men's sneakers from the limited editions to the coolest new Nike steppers, we did some digging and found some pretty awesome shoes you might want to drop cash on—of course these are only the ones that are actually available to buy. Scouring through eBay for maybe-they-are, maybe-they-aren't vintage Jordans is entirely up to you.
Photo courtesy of Nike
Riccardo Tisci x Nike Air Force 1
There is an entire song about this shoe—and while the musical number isn't our favorite, these sneakers are actually pretty cool. The first Nike collaboration for Tisci, this shoe was designed in two colors: black and while, in low, mid, high and boot silhouettes. And since the namesake shoes have been ridiculously popular for years, chances are they aren't going out of style anytime soon. Riccardo Tisci x Nike Air Force 1 are available starting April 11 only in select Nike locations and are priced from $240-$340.
Photo courtesy of Pierre Hardy
Pierre Hardy's White High-Top Sneaker With Khaki Trims
While the name of the shoe is pretty self-explanatory (almost annoyingly so), it doesn't make these sneakers any less awesome. With very clean detailing and a closure that includes both laces and velcro, these Pierre Hardy kicks would be right at the top of our list as far as style is concerned. The white leather and high tops make these look like a vintage classic, but with a modern twist. Available online at Pierre Hardy and priced at €635 (approximately $870).
Photo courtesy of Nike
Nike Kobe 9 EM Turbo
Set to launch April 18, these shoes already seem to have a decent fanbase online. The "Easter" edition of the sneaker, this dip-dye, lime green/turquoise blue color scheme is actually pretty cool—we wouldn't mind getting a pair ourselves. We may not "get" the whole "sneakerhead" thing or the reason why Kobe is so cool, but we know that a little color—even on your kicks—can spruce up any spring outfit. Available at Nike beginning April 18 and priced at $160.
Photo courtesy of Mr Porter
Jimmy Choo's Belgravia Crocodile-Embossed Leather High Top
Okay, these sneakers are seriously chic. They don't have the street cred that some swanky, ultra-rare, limited-edition Nike Jordans might have, but they look so much better. Combining current trends and street style, the mostly-black palette is minimalist, but the material really does the talking. A matte, crocodile-embossed leather gives these shoes a subtle touch of luxury. Available at Mr. Porter and priced at $765.
Photo courtesy of Farfetch
Puma Black Label By Alexander McQueen
At first glance these sneakers don't scream Alexander McQueen—where are the skulls? The dark colors? That deep sense of foreboding? Instead, these retro-looking shoes are a fun throwback to classic sneaker detailing and are perfect for blending style and function. No, we wouldn't use these as our new jogging shoes, but imagine how cool we'd look if we did. Available at Farfetch and priced at $312.
Photo courtesy of Lane Crawford
Giuseppe Zanotti Design Mixed Pattern
Yeah, these sneakers look like they are having a serious identity crisis, but that's kind of why we like them. Fashion is all about having fun right? We know this look isn't for everyone, but for the wild, bold and possibly artsy bunch, these are pretty awesome kicks. You might seem strange playing basketball in these, but you'll be a standout at the next Fashion Week. Available at Lane Crawford and priced at $1,440.
Photo courtesy of Nike
Nike Air Tech Challenge II Suede Pack
If you're pining for a bit of nostalgia—those days of running around on the playground or hanging with your friends at the mall (because that was the thing to do)—you'll love these throwback sneakers. A classic tennis shoe model, the two color schemes will be available in stone/lime green and colbalt/khaki shades. The suede uppers have that worn-in look that will make it seem like you've had these for years—and isn't that kind of the point? Available late April from Nike. Prices have yet to be announced.
Photo courtesy of Alejandro Ingelmo
Alejandro Ingelmo's Tron
New York based, Cuban-influenced Alejandro Ingelmo is fairly new to the scene, designing his first shoe collection in 2006, but he's already garnering a ton of attention. He was one of the top ten candidates of the CFDA Vogue Fashion Fund and a nominee for the 2009 and 2011 Swarovski Award for Accessory Design. His Tron shoe comes in several shades including a pretty awesome silver metallic and camo print, but we dig the trendy rose-gold hue—plus it has a really cool name. Tron is available online at Alejandro Ingelmo and priced at $550.
Photo courtesy of Mr Porter
Givenchy's Tyson High-Top Leather Sneakers With Stars
If we were big sneaker wearers (and guys) we would totally be rocking these kicks. Maybe it's the stars, or that awesome ankle strap, but we're kind of smitten with these shoes. The black and white paneling keeps these looking simple, and we love the bright, clean shade for spring. These can be dressed up or down and with the metallic stars you could easily pull a little rock'n'roll style out of these. Available online at Mr. Porter and priced at $875.
Photo courtesy of Adidas Jeremy Scott
Adidas Jeremy Scott Foil Wings Shoes
Hold all judgments for after we explain why these shoes are so freaking cool. First of all, the entire Jeremy Scott for Adidas line is pretty intense, but while others come in colors like neon green or ridiculous Hawaiian prints, these are an iridescent metallic—and metals are so in for spring. Secondly, that wing can come off if you don't always want to rock it (unlike other permanent fixtures in the collection) and third—just look at them! Can you say #dreamshoe? Available at Adidas and priced at $250.
Photo courtesy of Supreme x Nike
Supreme x Nike
If you can get your hands on a pair of these you better do it now because apparently they are necessary for the existence of life as we know it. The shoes that started the riot are completely sold out—but let's be honest, that doesn't really stop dedicated shoppers from getting what they want. Designed in both black and red, the Nike Air Foamposite 1 are styled with a golden print made exclusively for Supreme. This collaboration is available only through Supreme online (by order of the N.Y.P.D. they are no longer allowed to sell them in-store) and priced at $250.

Original article: