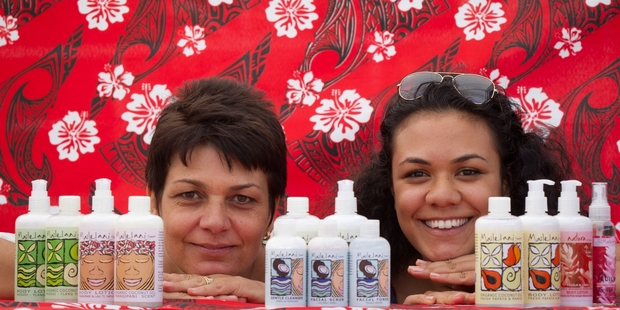 Sylvie Salanoa and her daughter Tailani with a range of their coconut oil-based beauty products. Photo / Richard Robinson
Kiwis are turning to coconut oil for everything from moisturiser and hair conditioner to using it as a butter alternative.
A company in Samoa that has been selling organic coconut oil-based products for 13 years says it frequently receives inquiries from New Zealand, Europe, the US, Japan and Australia.
Pure coconut oil has long been a staple food and beauty secret in the Pacific, but has become popular in the West thanks to endorsements from celebrities such as Aussie model Miranda Kerr and American singer Mandy Moore.
Kerr has revealed she uses coconut oil on her skin and takes spoonfuls of it every day, saying it has played an important role in her success.
Mailelani Samoa has been making skincare and beauty products out of it for more than a decade.
The company is displaying its products in Auckland today at the Buy Samoa Made trade show, which is expected to attract hundreds of people to the Mangere Art Centre in Manukau.
Sylvie Salanoa, who owns the company with her husband, Kitiona, said: "We made coconut oil soap bars that were 100 per cent organic. It's basically oil in a bar and it's so soft.
"Yes, it's a soap, but you can even use it to wash your hair."
The soaps became so popular that the couple branched out, releasing a range of coconut oil-based lotions, moisturisers and massage oils.
They are now working on a range of cooking oils.
Auckland nutritionist Jeni Pearce, who works for High Performance Sport NZ, said it was important for people to take coconut oil as part of a balanced diet.
She said a level teaspoon of coconut oil was about 45 calories.
"People need to make sure that they're swapping it for another fat and not just adding another fat to their diet."
This weekend's trade show is hosted by the Samoa Association of Manufacturers & Exporters and has 30 different stalls offering handicrafts, services and specialist foods such as vanilla, chilli, taro, coffee and cocoa from Samoa.
The Buy Samoa Made trade show kicked off yesterday. It opens at 8am today and finishes at 1pm.