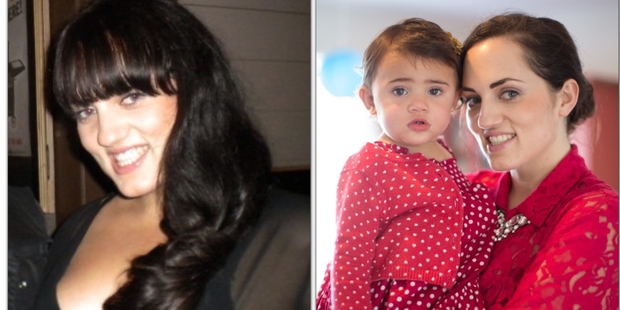 Sera Lilly, pictured right with daughter Amalia, before and after losing 39kg. A year ago she weighed just over 118kg.
On January 1, 2013, designer Sera Lilly got on the scales and was horrified at the number she saw.
That day, she made a decision to change her life for the better, but had no idea where the next 12 months would take her and the effect she would have on other women.
A year on, the prominent bridalwear designer has lost just over 39kg, dropped four dress sizes and is well on the way to reaching her health and fitness goals.
But it hasn't been easy. On New Year's Day 2013 she weighed just over 118kg. She had a 4-month-old baby and her wedding to Armani was six weeks away.
She was adamant she would walk down the aisle knowing she had done everything to look and feel her best.
"I knew I was never going to get tiny by my wedding day … But I wanted to at least know I'd tried, and to feel better than I did. I took 'before' photos in my togs and I just cried and cried," she told the Herald.
Until last year Ms Lilly was an "M&Ms, Rashuns and Pepsi Max girl". Now she's hooked on daily gym sessions, and eating fresh food.
"I've lost about 100kg in my life. Every diet you can imagine – I've done. But now it needs to be about positive body image. It's got to be about how you feel rather than how you look."
Ms Lilly is making sure that message filters down to her four children, daughters Stella-Kate, 12, Luella, 5, and Amalia, 1, and son Kingston, 6.
"I'm teaching them that if we put good food into our bodies, we feel so much better. We don't talk about weight loss in our house. We talk about being healthy, I want this to be a lifestyle change."
Ms Lilly now follows the Rapid Fitness food plan programme.
"This has taught me about what's good for me and what's not and why it's not …"
She has been chronicling her journey on her From Fat 2 Fit Facebook page, which thousands of women follow.
"It was somewhere I could put out my ideas. I never thought it would get to 5000 followers," she said.
She has also created her own cleansing tea and is planning a line of workout gear for larger bodies.
She also wants to run a half marathon and take part in a body sculpting competition.
"I'd like to try that. To go from 118kg to 8 to 10 per cent body fat … wow. I just want to prove … that you can do it with hard work."
Sera's top 10 tips
1 Set goals: I set an end goal, a monthly, weekly and daily goal.
2 Exercise: I exercise at least 3 to 5 days a week.
3 Do it with a friend or support group. Me and my best friend Rosie starting losing weight together and last year lost more than 60kg between us.
4. Be realistic. How long did it take you to put the weight on? You won't lose it overnight.
5 Find the right eating programme. For me it was Rapid Fitness.
6. If you have a bad day (which you will, we all do) don't say I will start again next Monday like I used to. Start next meal.
7 It's okay to have a cheat day, just don't let it become a cheat week.
8 Drink plenty of water, it's good for your skin and to rehydrate.
9 Stop saying you can't do it – you can! You will! If I can do it you can.
10 Remember why you wanted to lose weight. Put some words or pictures around the house to remind you – on the fridge, mirrors, etc.