Marissa Stempien

Fashion Editor | JustLuxe.com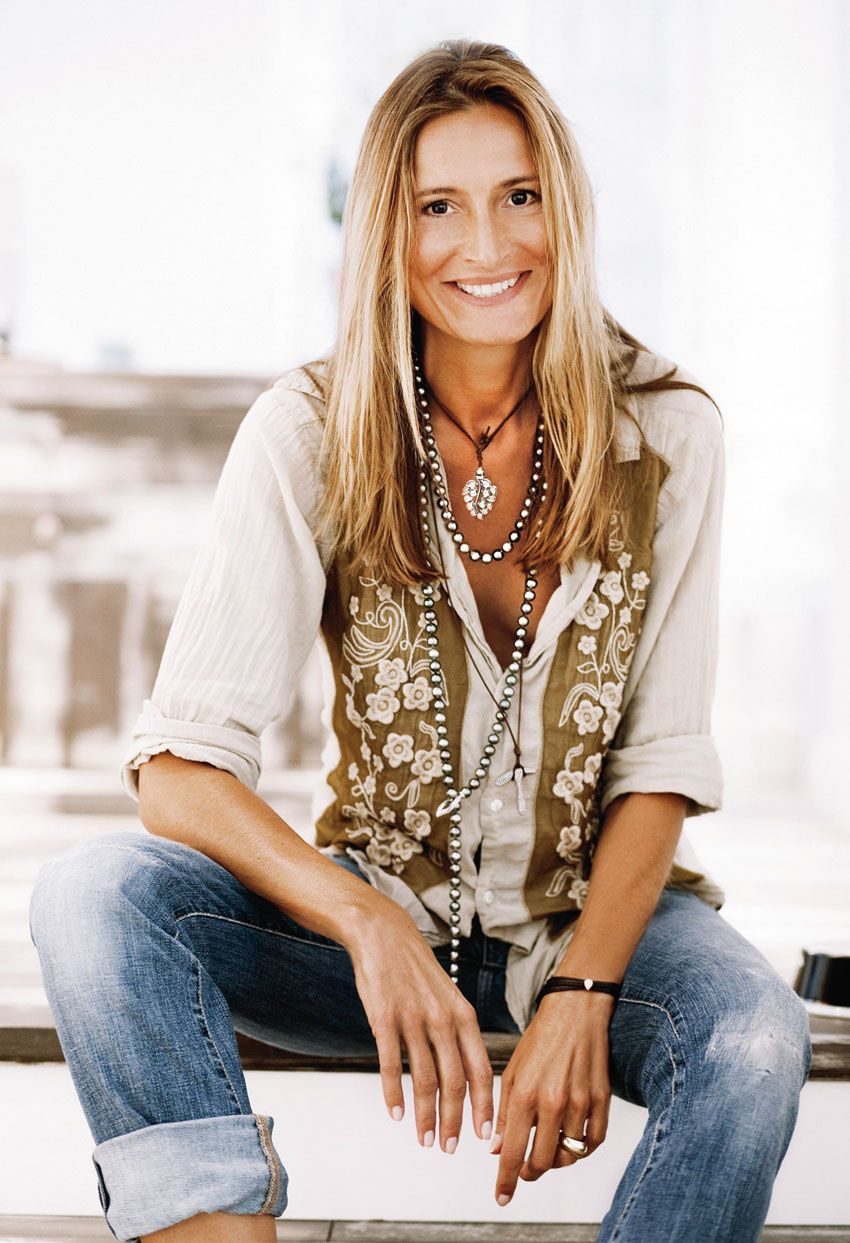 Photos Courtesy of Tamara Comolli
For most women, jewels are an adornment—a status symbol, a way to show their flair for fashion or their intrinsic personality—but for jewelry designer Tamara Comolli, jewels are meant to have a deeper connection, one that embodies a woman's aura and sense of self. Her designs flirt with the line between luxury and casual with rare gemstones hanging from leather cords or precious metals in organic designs, but each is made with the hope that it will become a part of the wearer and compliment who she is. Speaking with the designer we found out where her passion was founded, the inspiration behind her designs and the trends in fashion she just can't stand.
JustLuxe: Can you talk a bit about your background and how you got into jewelry?
Tamara Comolli: Although I have never formally studied gemology, I have been innately passionate about gemstones from a young age. Growing up, my father managed a casino in Gibraltar, I was always surrounded by amazing bejeweled women, and found myself particularly mesmerized by their gems. I carried these memories from my colorful upbringing with me, and after obtaining a business degree through university schooling and working in several various marketing and consulting jobs, returned to my original passion for gemstones and started my own company. It all happened quite fast, and now 20 years later, my childhood passion has grown into a successful brand.
JL: Can you tell us about the inspiration behind your collection? What makes your collection so unique?
TC: I look at women and their aura, and how they carry themselves, and I am drawn to those who are natural and not over-the-top. Launching my brand, my goal was to channel this natural spirit into wearable, and contemporary jewelry made out of the best quality materials available, while simultaneously implementing my own signature style. When I first started designing, I felt that existing jewelry brands either offered too much, or too little and did not allow women to create their own look or style. I noticed a single-hand approach to jewelry design: there was nothing available in fine jewelry that wasn't also available as costume. Innovation was missing in the world of jewelry, and when brands started to change women began making purchases based on popular advertisements or what pieces were regarded as status symbols. Women all wore the same combinations, and as soon as something new hit the market, the women again all flocked to the same popular style. I, instead, wanted to create a lasting look that can be versatile and allowed the option to add the new pieces without eliminating the old styles you love. This is why our collection is quite large and complements many styles. Be it hippie chic, classic with a twist, or feminine and sexy! In addition, with my wide array of color stories in the endless world of gemstones, I never get bored, and can meet fashion trends quite fast by using my core designs in new colors!
JL: What is the process that goes into creating a new piece? Do you start with a design, a jewel, an idea…how is it then executed? How much time goes into making a new piece?
TC: Creation can take a considerable amount of time—usually over a year. Idea formation is rather quick, but development and fine-tuning takes time. Fine-tuning a collection for numerous sizes is a challenge, but computerized design has provided immense help in that area.
My travels to the gem mines have been a great source of inspiration for me. In addition, they have also given me a sense of security in regards to a steady supply of new and untouched gems my Ocean Jasper and Wood pieces combined with 18 karat gold. Having close connections with my suppliers has given me the opportunity of having a primary selection of gems, which has been an honor.
JL: What is your personal style like? How does that influence your creations? Are there any trends you love or hate?
TC: My style is casual, elegant, and easy—nothing complicated. My designs are easy to wear, very soft and comfortable. I never look dressed up, even when my high end-side comes into play. I am not a fan of passing trends. I think women of a certain style can understand exactly when a trend is dead, or if it will stay on the scene. For example, I hated the extravagant shoes with peculiar designs. I also disliked last fall's oversized coats—why buy it when one takes it off anyway? Who wears a coat all day long? In jewelry there is not much I dislike unless it looks or feels cheap. My personal view of jewelry is totally different.
JL: Where are your metals and gemstones sourced from? Do environmental or social concerns come into play for your brand?
TC: My materials are from quite a variety of places, and all of my gems are natural. Unlike various other luxury brands that may feature synthetic stones, using all natural gems ensures the uniqueness of my pieces. Many times I face the tough situation of lacking a full supply because the rough gems on the market do not meet my standards, or are simply unavailable. Such is life, therefore, I get creative by featuring new gems from all over the world. Many of the gems are sourced in Africa, Madagascar, India, Australia, spanning into the Middle East and China…Indonesia and more…
JL: What are some of your favorite jewelry aesthetics? Some of your favorite pieces from your collection?
TC: My favorite design from my collections is the Signature Leaf Pendant. This design won the DeBeers Award, and I enjoy wearing it simply on thin leather. Next would be the Flamenco Bracelets—the stunning collection of gems feel so soft when dangling on my wrist.
JL: What do you hope women will feel when wearing your jewelry? How do you wish for them to see themselves in your pieces?
TC: Yesterday, I met a woman who felt as though my jewelry has become part of her, and she feels naked without it. My jewelry has a very sensual characteristic. I have found that women love to interact with the jewelry such as the acorn pendants, always having their hands on it. This is a huge compliment to me, displaying how the jewels have become part of each individual woman, and the men seem to agree.
JL: You've had a successful career as a stylist and have traveled and met people from all over the world; what are some of the most influential things you've seen and learned? What are some of the most important discoveries you've made through creating your own label?
TC: Most importantly, I am always true to my style, trying never to exaggerate. Personally, I am quite shy and am intimidated by the idea of celebrity. If the success has not changed me yet, I must be doing something right.
JL: What are your plans for the future of the company? Where do you want to go from here and how do you want to expand?
TC: Right now I am working on a new store in Munich, where I was born. This is quite an undertaking. Munich will be my first expansion into a city environment rather than beach location such as The Hamptons or Palm Beach. We are also working to establish on online presence, hopefully launching in the fall. And of course, several new beautiful products that carry the spirit of my brand!