Home >

Fashion >

Womens Style >

The Best Spring/Summer 2014 Runway Looks to Scoop Up Before They Sell Out
Apr. 9th, 2014 | Comments 0 | Make a Comment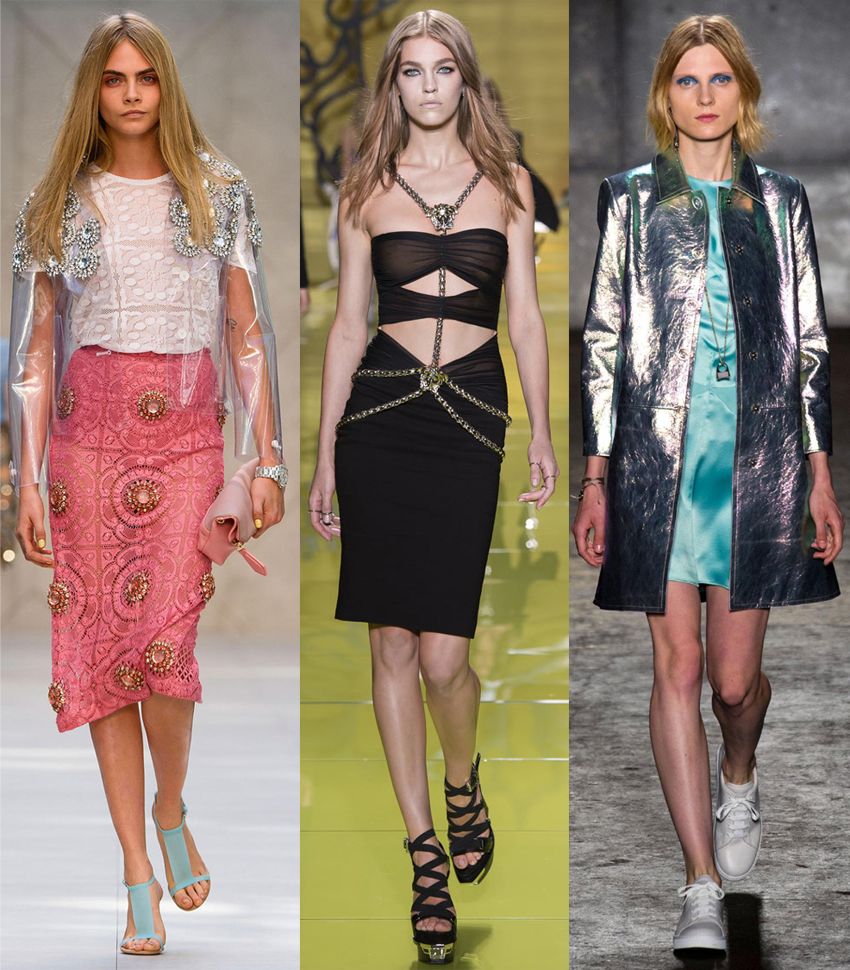 Burberry Prorsum, Versace, Marc by Marc Jacobs
Now that spring is finally here all those pieces we were coveting from the runway last September are becoming available. It's like a dream come true. It was a spectacular fashion week season and there were plenty of favorites to pick from, some that we could see Anna Wintour wearing and others that some of the more, eccentric fashion lovers would undoubtedly sport throughout the summer. But whether your style is young and sexy or classically lady-like there is something off those runways that you are sure to want. With a few standout pieces, some of our favorites were gone before they even hit the shelves, but that didn't stop us from immediately spotting a new favorite. Personally we'd take one of everything on this list, but we don't want to be too greedy…
Photo Courtesy of Burberry Prorsum
Burberry Prorsum dazzled in pastels for spring making every fashion maven drop what she was doing and immediately start planning an outfit around lavender and pink lace skirts. Yes, Cara Delevingne was the one modeling the new must-have piece and we're pretty sure that's not a coincidence. The collection has a series of lacey prints all in different styles and colors—enough to fill your closet and never get bored—but this pink one is the tops. Fashion editors, models and celebs were seen sporting this right after its runway debut. Gem Embellished English Lace Skirt is available at Burberry and priced at $2,495.
Photo Courtesy of Mytheresa
Miu Miu's Spring 2014 collection was all about pastels, unicorns, cats and rainbows—basically it was as girly as you can get without going overboard. Okay, maybe Miuccia Prada went a little overboard, but that's what made this collection so hot. The next day the fashion elite was seen sporting some of the printed coats or kitty cats heels, and we don't need to be reminded that everyone is super into felines right now. If you can snatch up one of the rare coats (that seemingly sold out before they were even offered to the public), then grab one—but we'd be just as happy with the ultra-adorable ballerina flats featuring the same chic kitty. Miu Miu Printed Patent-Leather Ballerinas are available at Mytheresa and priced at $750.
Photo Courtesy of Versace
Versace always leaves us a bit on edge after a show—do we want that dress? Can we pull off that much skin? They we realized, who cares, it's summer and yes—we need that dress. Undoubtedly the JustLuxe office favorite, the Cutout Draped Dress was on the top of our must-buy list due to its almost inappropriately sheer layers, the warm-weather cutouts and the chain that practically screams Versace. Sure it takes a certain kind of women to pull this daring look off, but what's life without a little fun? Cutout Draped Dress is available at Versace and priced at $ 4,625.
Photo Courtesy of Mara Hoffman
Mara Hoffman fans know the designer for her distinct look of color and print—a style that is very much her own. Her Spring 2014 runway show was a bright display of summer hues, and we found more than a few pieces we would need before the warm weather hit. Snatch up a few of her backless minis and maxi dresses for the easiest beach ensembles. The highlights of the show were the beaded rainbow gowns, a literal interpretation of her love for color. Beaded Dashiki is available online at Mara Hoffman and priced at $1,628.
Photo Courtesy of Fendi
Fendi has the golden touch when it comes to fur. Spring, summer, fall—it doesn't matter, their fur is totally on point. Any accessory you grab from their Spring 2014 collection is going to need to have some fuzz on it somewhere. Whether you attach a buggie to it—or somehow get your hands on that fuzzy Karl Lagerfeld keychain—it's all about adding accessories to your accessories. We loved the ombre dresses that came down the runway, but having that cool mutil-dimensional pattern in a handbag means we can wear it that much more. Fendi Degradè Pink 2 Jours calfskin shopping bag is available in Fendi boutiques worldwide and priced at $2,850.
Photo Courtesy of Proenza Schouler
Proenza Schouler collections always sell like hotcakes. Without a doubt they are a designing duo that knows their audience, and knows how to give women a look that they will keep as part of their rotation for years. Their black and white tree print from the Spring/Summer 2014 collection was a total standout and their sleeveless, layered peplum dress is perfect for staying high-fashion and chic right into summer. Our favorite thing about the dress is the drop-waist peplum—instead of accentuating the hips (which is usually not a favorite feature), this cut elongates the body making the wearer seem tall and lanky. Sleeveless Layered Peplum Dress is available at Proenza Schouler and priced at $2,850.
Photo Courtesy of Chanel
Chanel swept us away with artsy prints, intense eye color and adorable little Chanel No. 5 minaudiere we knew we'd have to have, but so far the breakout star seems to be those big, gaudy, almost ridiculous-in-proportion pearls that every model was accessorized in. Huge cocktail rings, chunky bracelets and mod cuffs adorned every woman, but everyone's favorite was the large pearl necklace that looked like headphones. They totally weren't, so don't expect to hear any Jason Mraz blaring through them, but they looked so cool. Metal Earphone Necklace Embellished with Pearls available at Chanel boutiques worldwide and priced at $1,875.
Photo Courtesy of Marc by Marc Jacobs
Marc by Marc Jacobs left everyone lusting after metallics in the worst way. A few stars, a couple shiny satins and we were basically hooked. While most Spring/Summer collections are all about making the most of colors and warm-weather gear, this collection also took into account the drearier days of spring where we still spend half our day in a coat and don't slip on sandals until mid-July. The minty-green leather coat was a total standout and blends the trends of pastel shades and metallic perfectly. Metallic Leather Coat is available at Marc Jacobs and priced at $1,598.

Continue reading: