Increasing numbers of thrifty Kiwis are choosing to save money by shopping online for pricier items of clothing like ballgowns and wedding dresses, then fork out extra for alterations.
Rose's Alterations in Newmarket, Auckland, which deals with hundreds of garments each week, said dress alterations spiked during ball season.
Co-owner Rachel Beechey said many of the ballgowns were bought online and needed fixing up.
"The ballgowns, in the peak season, we'll probably get up to five a week," she said.
More brides to be were also choosing to buy online to save money.
The store's bridal consultant estimated about 75 per cent of alterations which came her way were from online and overseas purchases, she said.
"There was actually one particular lady that bought an exact gown overseas that she saw for $2500 here, and got it for $250 American online. She then went on to pay probably twice as much as that to get it altered but she was still winning," Mrs Beechey said.
Auckland tailor Jenny Kung, of Silhouette Alterations in Queen St, warned that the quality of clothes bought online from overseas could vary greatly.
She said many buyers thought they were buying gowns made in the US when they were actually made in China, and could be very poor quality.
"There are some customers who are willing to pay a slightly higher price and the quality is absolutely amazing. In the end what you get is what you pay for."
In some cases the garment quality was so poor it couldn't be altered, she said.
Helen Bellringer of Sue's Repairs and Alterations, which has three stores across the North Island, said most customers had realistic expectations about online purchases.
Customers could spend up to $150 for a dress on the internet, then fork out another $90 for alterations and it wouldn't matter, she said.
"They don't see it as a risk, they see it as quite reasonable."
LookSmart Alterations, which sees about 200,000 customers across its 20 stores each year, said online shopping was "trending up".
The majority of online alterations were for wedding gowns and bridesmaids dresses, spokeswoman Shari Mitchell said. Customers were also coming in to have their measurements taken before purchasing online.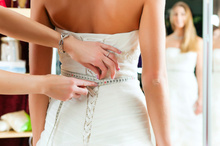 However, bargain-hunters also needed to be wary that the Consumer Guarantees Act did not cover internet purchases from offshore sites.
Upper Hutt dress designer Rasha Taylor said many of the "online ball dress disasters" she had seen required so much work, customers were better off buying a completely new gown.
Taxes could also be incurred at the border, with any fashion items worth more than $225 incurring duty, GST and fees. But Customs would not collect if the amount owing was less than $60.
Wairarapa's Carolyn Henson of Carolanz Dressmaking predicted the online shopping craze among teen girls would eventually die out.
"I think, in the next few years, there will be a turn-around of girls coming back to getting a gown made to measure."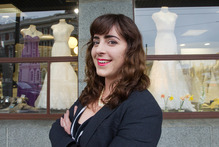 Online dress required some 'tidying up' but was worth it:
One wedding dress wasn't enough for bride-to-be Gemma Webster.
The 22-year-old, who is due to marry in February, made the most of low prices available on the internet by ordering two different gowns for her big day.
Miss Webster, a manager at a menswear store in central Wellington, said the first cost about $220 from Trade Me.
While there were no major problems with the Chinese-made gown, Miss Webster decided to order another after changing her mind about the style.
"It didn't really matter if I didn't like it because I could get something else, which I ended up doing.''
The second dress, which was ordered from online retailer JJ's House and cost about $350, was also made in China and arrived last month.
Despite the A-line dress needing a few alterations and "tidying up", Miss Webster was pleased with her purchase.
"All the detailing on it is beautiful. Obviously paying a bit less, you've got to expect for it not to be as immaculate as a $3000 dress," she said.
Any alterations, which could cost up to $200, would still be worth it as the gowns she had tried on in stores cost between $2000 and $3000.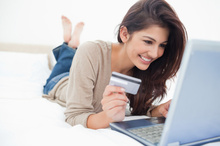 Online shopping number crunch:
* New Zealanders spent $3.7 billion on internet shopping last year, with 26 per cent of the spending on overseas websites.
* Clothing, shoes and accessories made up 38 per cent of the items bought online.
* Duty, GST and fees on $1000 dress: $311.89
- additional reporting Wairarapa Times-Age
- APNZ
By Teuila Fuatai

Email

Teuila, Heather McCracken

Email

Heather