Posted: May. 1st, 2013 | Comments 0 | Make a Comment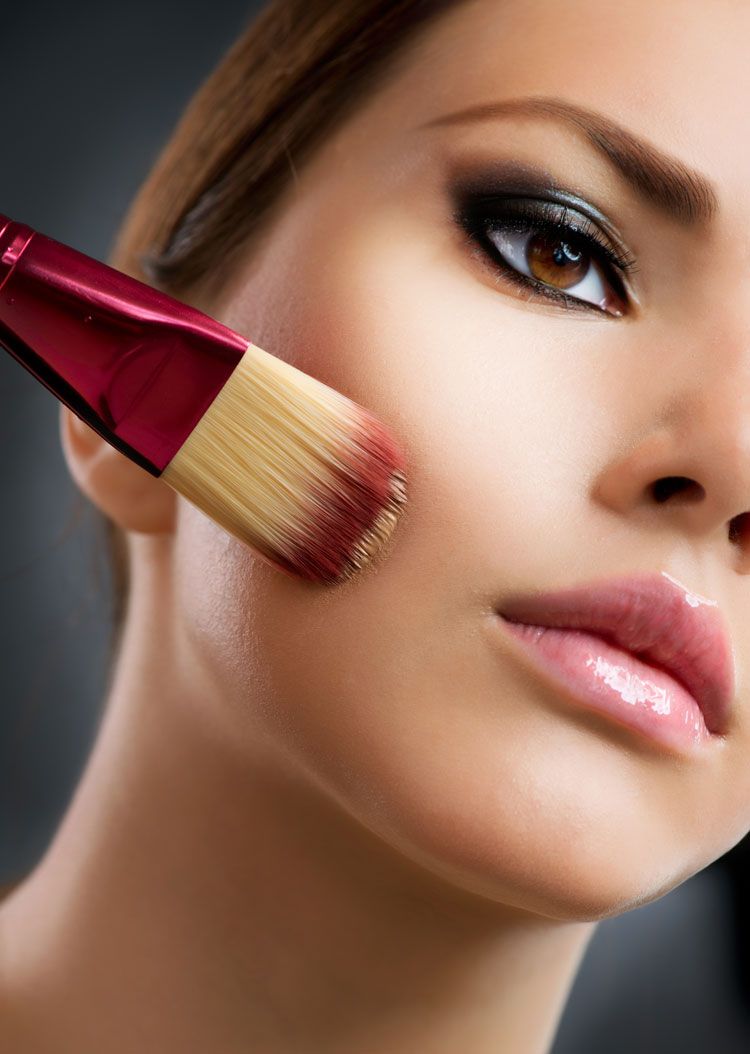 Photo Courtesy of Subbotina Anna/Shutterstock
Luxury beauty mavens know what they like and where they want to spend their money. Some choose to splurge on lip stains while others swear by top-label mascara tubes. But one product that is commonly overlooked is the actual tools you're using to apply your makeup. Since they get a lot of wear and tear, many women figure that investing in an expensive makeup brush simply isn't worth it; but the truth is that the most expensive brushes are often made of the finest materials— and when cared for properly and regularly cleansed, these tools can last for years— even a decade. Here, we've rounded up a list of the most expensive makeup brushes to prove to you that shelling out for higher quality really is worth it.
Photo Courtesy of Bobbi Brown
Bobbi Brown is typically viewed as the queen of makeup— because of her, any beauty product, from high-end SPF moisturizer to fun seasonal collections are readily available at our fingertips. With the goal of creating products that result in a gorgeous, no-makeup look, it should come as no surprise that Bobbi's brush and tool collection is almost as large as the makeup selection. After all, "The right tools are just as important as the makeup itself," in the words of the artist herself. With a full range of natural hair brushes for makeup application to different facial features, Bobbi Brown's got you covered from cheekbone to eyelash. But her Basic Brush Collection provides all the essentials, including brushes for concealer, foundation, face blending, eye shadow, eye liner, and eye brow. Conveniently tucked into a portable black case, you basically have a travelling makeup bag with you for $185.
Photo Courtesy of Chanel
When it comes to timeless beauty, nobody had that down better than Coco Chanel. Today, the label carries on the iconic fashion designer's effortless sprit in the fashion house's exponentially growing beauty sector. Though Chanel comes out with new makeup collections each season, there are a few classic items that prove to be mainstays on the beauty counters year after year. One of those is Les Essentiels: Les Pinceaux, a selection of meticulously crafted professional artistry brushes that help you achieve a complete look, no matter your powder choices. Included in the custom-designed Chanel makeup bag, consumers will find an angled powder brush, a blush brush, a foundation brush, a large eyeshadow brush, and a contour shadow brush all made with natural hair. The limited edition set sells for $225.
Photo Courtesy of Laura Mercier
As the personal makeup artist to celebrities like Sarah Jessica Parker, Julia Roberts, and Juliette Binoche, Laura Mercier has long been regarded as an expert in the beauty department. That's why women around the world of all ages and skin types have trusted her cosmetics for the past thirteen years. But it's the makeup artist's brushes that really work their magic on consumer's skin. The Laura Mercier Signature Brush Collection includes ten essential brushes with rare Wenge wooden handles and professional quality hair bristles that are meant for the eyes, cheeks, face and lips. At $375, the collection comes in a leather-inspired box that includes a retractable velvet lined inner easel-back piece and a large mirror for application on-the-go.
Photo Courtesy of Napoleon Perdis
The man behind this namesake brand is a Greek Australian makeup artist and businessman who has appeared as a special guest on Australia's Next Top Model and other beauty-related shows. Well-known in the industry, Perdis launched his own line of cosmetic products and tools. His 22-Piece Makeup Brush & Leather Roll Set is a great starting point for building a brush collection. The $379 package includes brushes made from the finest quality hair that fit into a black leather roll-up bag.
Photo Courtesy of Kevyn Aucoin Beauty
Makeup artist Kevyn Aucoin was one of the most influential and in-demand makeup artists of his time, and after his death in 2002, he left behind an empire of a cosmetics brand that he had founded at the height of his career. With the belief that "makeup is not a mask, but rather a tool for discovery," the brand certainly also understands that its outstanding makeup wouldn't be anywhere without the proper tools to apply it. Among its cosmetics accessories is The Deluxe Brush Collection, which includes 11 tools for sculpting the look you have in mind. Packaged in a black faux-leather roll, the brushes have long, sleek hands with natural-hair bristles— pony, goat or sable hair, depending on the brush. With every imaginable tool— from a big, fluffy powder brush to a skinny lip brush and even a tool for brows and lashes— it's no surprise this $515 collection won Allure's Best of Beauty Award.
You might like :

Health and Beauty News
Related Topics : Makeup, Accessories, Beauty Products, Luxury Brands, Bobbi Brown, Chanel, Fashion News

Original article –