| Home > LifeStyle > Leisure > The Real Guitar Hero: Fulfill Your Dreams with an Eric Clapton Guitar Replica | |
| --- | --- |
Posted: Feb. 20th, 2013 | Comments 1 | Make a Comment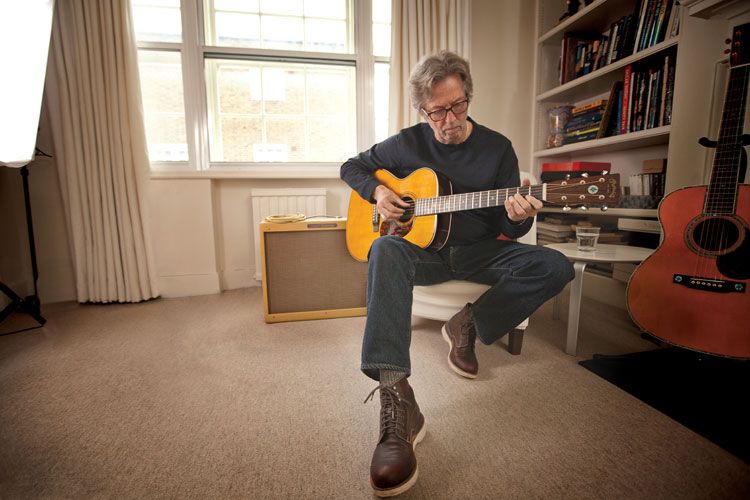 Photo Courtesy of Guitar Center
For those who wish to take part in rock-n-roll history, games like Guitar Hero provide a stage for players to try to match their skills to those of legendary musicians like Elvis, Slash, and Jimi. No matter your score though, you're still playing with a plastic guitar with color-coded buttons, which pales in comparison to playing the real deal. Even if you're not a consummate musician who can work a fret as well as a remote, anyone can appreciate the select few guitars that contributed to and represent rock-n-roll history. For a more authentic shredding session, one of the greatest guitarists of all time, Eric Clapton, and Guitar Center are releasing a luxury guitar collection in his name, and although not the real thing, two replicas of his guitars are reproduced down to the smallest of details.
The Eric Clapton Crossroads Guitar Collection is a set of limited edition guitars, including two replicas based on models used by Clapton during important moments of his career. Judging from the photos, the details — like the nicks and scratches — have been minutely reproduced. A portion of the sale proceeds will go towards Clapton's charitable foundation, the Crossroads Center — a rehab facility dedicated to offering treatment to those with chemical dependencies through residential care and aftercare programs. (Photo Courtesy of Gibson Guitar Corp.)
Clapton fans will surely recognize the "Brownie" Stratocaster — also known as the "Layla Stratocaster" as it was featured on the back cover of Layla and Other Assorted Love Songs. Originally purchased in 1967 and shown on the front cover of his first self-titled solo album, it was the first Stratocaster owned by Clapton and was prominent throughout his time with bands Delaney and Bonnie, and Derek and The Dominos. Buyers had a chance to score the original in 1999 when it went on auction (it sold through Christie's for nearly half a million).
Luckily for the rest of us, Fender Custom Shop, in partnership with Clapton and Guitar Center, made a replica using the original as a reference. The project was led by Todd Krause, senior master builder for Clapton's personal Stratocasters, and the result is a reproduction in detail. To be sold in a number of 100, with 50 available domestically and 50 worldwide, it will retail for $14,999. Limited quantities are on-sale in North America at Guitar Center starting March 21. (Photo Courtesy of Fender Musical Instruments Corporation)
Love is the cornerstone for lyrical inspiration and Eric Clapton wrote "Layla" as a tribute to a special lady — Patty Boyd. She was actually the wife of his best friend George Harrison (hello, awkward). Maybe when Clapton gave Harrison his cherry-red Gibson Les Paul, it helped smooth things over. With Harrison dubbing it "Lucy" after Lucille Ball, this iconic instrument has since become one of the most famous electric guitars of all time. We are fortunate to even have it around as a reference point because it was once stolen and almost lost during a burglary at the Harrison estate.
Originally a 1957 gold top, the original guitar was refinished by Gibson in 1967 in cherry-red. Eric Clapton can be heard playing it on a Beatles album, and it was later played by Harrison on the White Album and Let it Be, with Clapton eventually returning to it for his comeback Rainbow Concert. Gibson Custom made measurements to create a custom replica with the same lightweight mahogany body and slim 50's neck, along with other authentic details. 100 will be released worldwide at the price of $14,999. (Photo Courtesy of Gibson Guitar Corp.)
Complementing the replicas in the collection, Guitar Center, Clapton, and C.F. Martin Guitar are releasing three new signature models. Designed to Clapton's personal specifications, the "Crossroads" are based on a style first introduced in 1934 — the 14 fret 000 body style, and each has pearl inlays and bears the personal, hand-written signatures of Eric Clapton and Chris Martin on both the Certificate Of Authenticity and sound-hole label. Made from fine tone-woods, they are available in three versions — a 000-28EC Madagascar Rosewood ($5,999); a 000-45EC Madagascar Rosewood ($12,999); and a 000-45EC in Brazilian Rosewood ($49,999). Supplies are very limited and the two 000-45EC models are available for pre-sale now. (Photo Courtesy of Martin Guitar)
Guitar Center will also be offering limited edition straps by Ernie Ball for the collection. Inspired by the style of European automobile manufacturers, these feature premium Italian leather and hand-stitched threading with a thin layer of padding and an ultra-rich suede back. Ernie Ball first created Slinkys electric guitar strings in 1962, which have been used by Jimi Hendrix, Eric Clapton, Keith Richards, Jimmy Page, The Edge, and John Mayer.
With such a thorough attention to the detailing and reproduction of the guitars, down to the scratches and even straps, we hope they will sound just as good as the real thing. (Photo Courtesy of Guitar Center)
(Photo Courtesy of Gibson Guitar Corp.)
You might like :

Leisure News
Related Topics : Music, Artist, Memorabilia, Charity, Celebrities, Lifestyle News

Visit link: