| Home > Fashion > Chatter > The Scoop on Stella McCartney: 2012's Designer of the Year | |
| --- | --- |
Posted: May. 21st, 2013 | Comments 0 | Make a Comment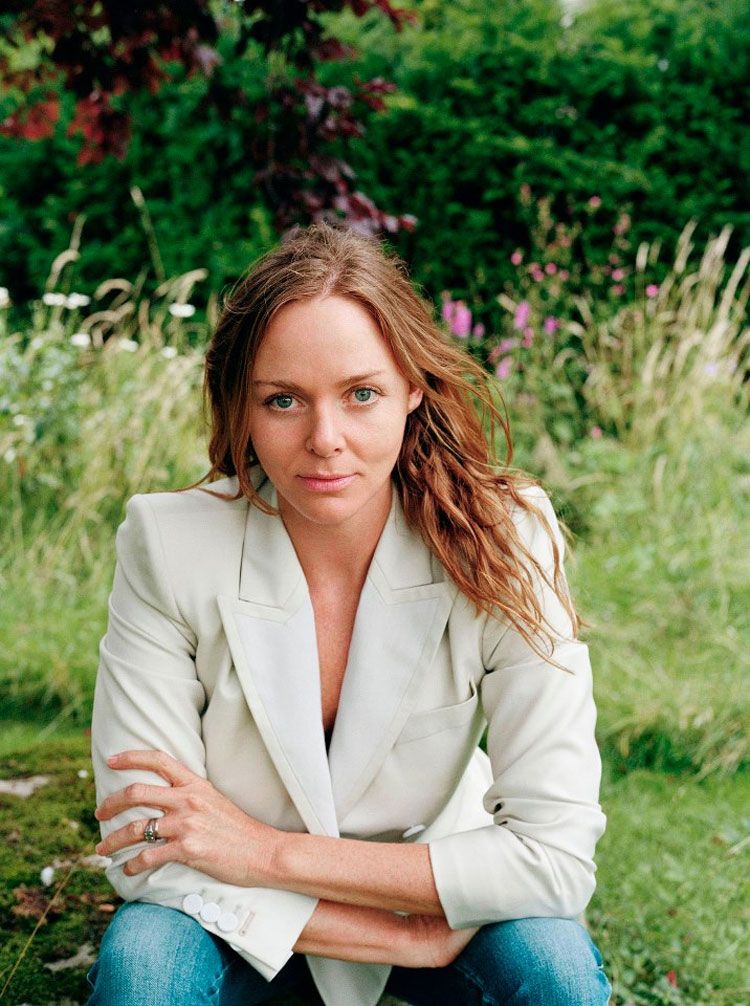 Photos Courtesy of Stella McCartney
Back in the '60s and '70s when you heard the name "McCartney" your mind went immediately to one person, and one person only. Paul McCartney is still as widely known today as he was back in the Beatlemania years, and he's built a legacy in more ways than one. Today, his daughter Stella is a rock star in her own right— the luxury designer's fashion house is home to three labels that include a lingerie line, a skincare line, and perfume— all of which were established before she was even 40!
Born in 1971 in Lambeth, London, England, Stella McCartney is the third of four children to former Beatles member Sir Paul McCartney and American photographer and animal rights activist Linda McCartney. Her early years were spent on the road with her musician parents, yet she still attended school and discovered her hobbies. At just 16, she interned for both Christian Lacroix, who was working on his first collection, and her father's Savile Row tailor, Edward Sexton. Her passion was undeniable and her talents were clear, and in the early '90s she attended Central Saint Martins College of Art and Design.
You might say the presentation of her graduation collection in 1995 was a bit different than those of other typical design students. Yes, her friends modeled her collection, but keep in mind her inner circle consists of supermodels Naomi Campbell, Yasmin Le Bon, and Kate Moss, who walked at Stella's graduation runway show for free. And what would a fashion show be without a little music? The models walked to a song called "Stella May Day" that her famous father wrote. Unsurprisingly, the show made front-page news and the entire collection was subsequently sold to a London boutique called Tokio. Browns, Joseph, Bergdorf Goodman and Neiman Marcus all acquired licenses to the designs.
By 1997, Stella was chosen as the Creative Director of Chloé following Karl Lagerfeld's departure. Her friend and assistant, Phoebe Philo, joined her at Chloé and later took over Stella's position when McCartney went on to build her own brand in 2001. Since then, the designer's self-titled fashion house has grown to include Stella McCartney, Stella McCartney Kids, and Adidas by Stella McCartney. The brand includes a 100% organic skincare line, lingerie, and fragrances. Today, her label's signature style of sharp tailoring, natural confidence and sexy femininity can be found in over 50 countries through 600 wholesale accounts, including specialty shops and department stores.
Considering her worldwide success, it's no wonder that franchises from all over the world want a little piece of Stella. She's partnered up with a number of collaborators including Target, H&M, and LeSportsac to create specialty collections that the everyday consumer can enjoy. But perhaps her grandest collaborative project came in 2010 when she was appointed to Team Great Britain's Creative Director for the 2012 Olympic uniforms by Adidas. She designed the sportswear and opening ceremony uniforms for athletes who participated in both the London Olympic Games and Paralympic Games that year.
With critical acclaim and success in fashion and social awareness, (she's a lifelong vegetarian and PETA supporter) the designer has a magnitude of awards under her belt. Her first recognition came in 2000 when she was named the VH1/Vogue Designer of the Year. A few of her many fashion honors include Glamour's Award for Best Designer of the Year in 2004, the title of Best Designer of the Year in 2007 by both Elle and the British Style Awards, and she received the Red Carpet Award from the British Fashion Council in 2011. Last fall, the British Fashion Awards named her the Designer of the Year.
She was named the Organic Style Woman of the Year in 2005, the Green Designer of the Year at the ACE Awards in 2008, and featured in the Time 100 in 2009. Just this year, she's already been named one of the 100 most powerful women in the United Kingdom by Woman's Hour on BBC Radio 4 and was presented with an Order of the British Empire award for excellence and her services to fashion by the Queen of England.
Today, Stella's labels continue to thrive and it seems as though things are still looking up for the celebrated designer. Her focus on function and comfort is well-embraced by fashionable women all over the world. Glenn Close, Anne Hathaway, Cameron Diaz, Kate Moss, and Salma Hayek are among the several A-listers who are frequent front-row audience members at McCartney's chic and playful runway shows.
Photo Courtesy of Featureflash/Shutterstock
But perhaps her biggest support group is her family. Her late mother continues to be a source of inspiration for Stella, who named her most recent perfume, "L.I.L.Y.," after her. Lily, an acronym for "Linda I Love You," was a nickname that Paul frequently used for Linda McCartney. Stella married British publisher Alasdhair Willis in 2003, and together they have four children that they are raising in London.
We're sure the future is bright for this young designer whose career is still gaining speed. More than fifteen years after she started in the biz, Stella continues to prove she's still got the "wow" factor that makes her so edgy. For Resort 2013, the designer shocked fans when she presented her collection at New York City's 19th-Century Marble Cemetery in the East Village. An eerie location indeed; however there was something refreshing about the irony of colorful, upbeat clothes against a backdrop of graves and headstones.
According to the pros, it's Stella's M.O. to "create clothes for real women and their wardrobes" that makes her a favorite among critics and consumers season after season. "This is one designer who shows that you can have it all. She's sexy and modern and truly her own person," Anna Wintour wrote in Vogue in 1997. "The Stella look is that of the girl who when she gets dressed puts on her favorite pair of Manolos, a T-shirt dress she wore in high school, and then rifles through her grandmother's attic for a spare family tiara."
You might like :

Best Fashion Designers
Related Topics : Stella Mccartney, Celebrities, Chloe, Luxury Brands, Fashion Designers,
Link: