Posted: Jul. 17th, 2013 | Comments 0 | Make a Comment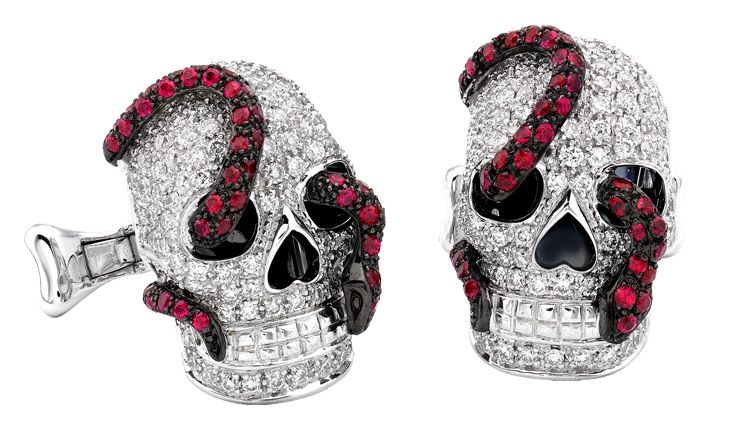 Photos Courtesy of Theo Fennell
Men who wear cufflinks are gentlemen; they open doors for ladies, drive James Bond-esque cars, and probably save the country in their spare time. At the very least that's the image they convey. They look pulled together; ready to take on the world in the most dashing and sexy way possible. Or, you know, they could be a businessman. Either way Theo Fennell cufflinks are bringing a new look to men's wrists making them look like their own personal secret agent.
The cufflinks are representative of a man's hobbies, which apparently are more varied than cars and sports. Yachting, snorkeling, aviation, and even space exploration are encased in miniature metals to wear on your sleeves. Cufflink collections such as Heroes and Villains, with 18kt gold immortalizations of Gandhi, Churchill, and Mao, are easy to see where the use of skilled artisans comes into play. Even if you don't want to rock Mao's mug on your cuffs you can't deny the stunning workmanship. The diamond studded cufflinks are an interesting mix and match of hearts and skulls; hearts adorned with crossbones, devil horns, or even eyeballs, while pavé snakes glide in and out of the skull's glittering eyes. A little rock'n'roll for Wall Street, but that's part of the appeal.
The newest pieces in their collection are the Downing Street cufflinks. A tribute to close friends Winston Churchill and David Lloyd George, the cufflinks actually open to reveal hand painted images of the two British Prime Ministers. A bit of a quirky statement piece for history buffs, government officials, and Brits. Not the only pieces with moving parts, the Keyhole Swivel cufflinks also have a little surprise inside. A gentlemanly round of white gold and diamonds swings open to reveal a secret woman's silhouette that would make 007 proud. In more polite company you can always keep it closed to hide what a real lady-killer you are.
Building a collection of cufflinks from Theo Fennell may cost you an arm and a leg, but then again, they may soon have a new set which actually features an arm and a leg, you never know. The unique and fresh take on men's accessories give personality and fun to those long boring days of pushing paperwork…or saving the world.
Theo Fennell cufflinks are available online and at the Flagship London store. Priced at $418-$19,013 at current exchange rate.
You might like :

Devon Timepieces: Making Manly Watches Even Manlier
Related Topics : Menswear, Accessories,
See original article here: