Home >

LifeStyle >

Leisure >

These 8 Luxe Accessories From Houndworthy Will Make You Jealous of Your Pooch
Mar. 5th, 2014 | Comments 0 | Make a Comment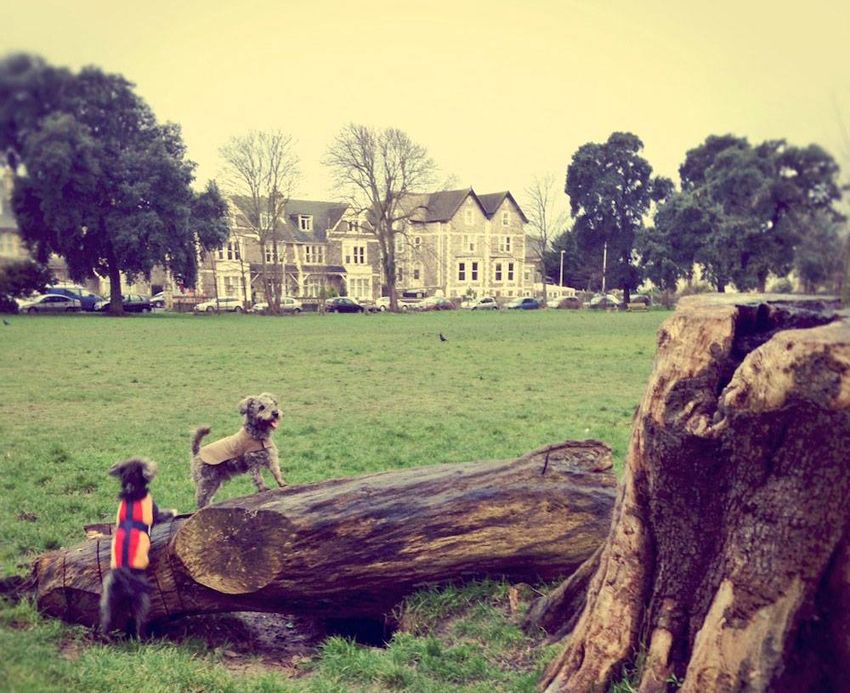 Photos Courtesy of Houndworthy
Houndworthy apparently doesn't like to use the term "luxury" to describe its collection of dog goods, but that's the best descriptor we can think of. When you have clients like Ralph Lauren, Mulberry and Paul Smith, your exclusive range of collars, leads, toys, dog beds and jackets are bound to get some serious attention. Wanting to be more than just a pet accessories company, the team behind Houndworthy strives to be a "collection of thoughts, images and ideas about how life with dogs is inherently rewarding." Not only are there many great images of the products, along with detailed descriptions, there are snapshots all over the site picturing adorable pups wearing the accessories from day-to-day.
If you're feeling left out, don't worry, because Houndworthy also offers some pretty cool things for you too, like art prints, gloves, and bags.
The Fieldmaster Collar in Black
Available in three different sizes, the Fieldmaster Collar (£65; $108) represents the leader of a hunt, the one who is in control of horse and hound. Made using English Bridle Leather that's sourced from one of only three UK tanners licensed to pit tan. This collar is crafted by Bettina Weimar Eisenach in the heart of the Oxfordshire countryside, and would look great on any larger hunting breeds. We love the fun use of chromed animal motifs that are placed upon brightly colored leather circles, adding three-dimensionality to the design.
The Double Nelson Traditional British Navy Lead
We love the old school shipyard look of this Double Nelson British Navy Lead (£46; $76), designed for walking two dogs. Not only is this lead actually made at the last remaining British Royal Navy Dockyard, it uses strong 10mm hemp rope that is still used at the preserved historic Chatham docks. With six sailor's knots making sure your dogs stay where you want them, the leash doesn't need any clamps, glue or stapling. The company warns customers that the rope lead may arrive with a distinct "farmy" odor, but that's what you get with true authenticity!
The Weldon Classic Wool Jacket by Billy Wolf
This Weldon Classic Wool Jacket (£62; $103) manages to make the little terrier sporting it even cuter, which is pretty impressive given we're already plotting to track that dog down. Available in three sizes and made in the USA, this cute jacket by Billy Wolf rocks a pumpkin, rust and turquoise plaid that has a khaki sherpa inner lining. Billy Wolf designs tend to give that American vintage look people can't get enough of and it's in part thanks to creative force Lyndsey Drago (a former designer for Ralph Lauren). She makes her stuff to last, so whether you're four-legged friend is gearing up for a wintery walk through Central Park or a run through the Scottish Highlands, this jacket will probably keep him stylishly warm.
Monogram Sighthound Collar
This tan and cream Sighthound Collar (£50; $83) is made with English Bridle Leather (which is provided by the equestrian J.E. Sedgewick & Co.), using soft lambskin as a lining. Stamped with the Houndworthy monogram and made in England, we love the uneven shape that is thick at the back of the neck and thin at the throat where the solid brass buckle is found. Plus, you can even buy the matching lead to go with it (£42; $70).
Dreamy Bed in New Green From Cloud7
Once you have the perfect collar and lead, your dog is going to need somewhere to relax — preferably a dog bed that won't look ugly in your home. Thankfully, the Dreamy Bed from Cloud7 (£170; $284) is a boho interpretation of the folding bed found in the 1976 VW campervan that is cute and retro. Houndworthy likens the bed to the dog equivalent of the mattress found in a five-star luxury hotel, knowing that Cloud7 only uses great materials that look amazing in both sleek minimal homes or comfy cabins.
Distressed Canvas Bed in Vintage Post
If the Dreamy Bed isn't for you, we also love the Distressed Canvas Bed in Vintage Post (£126; $210). Sourced from "a cool Hünd cushion," this bed is made from tough military-grade canvas (also used for tank covers and ship deck coverings) and has visco-elastic fill materials that won't collapse or flake over time. Made in Germany by Lex&Max, this bed apparently resists odors too.
The Ultimate Tote Travel Bed in Grey Tweed
Another from Cloud7, this organic wool-lined Tote Travel Bed (£80; $133) is great for travelers who need an easy way to carry around a dog bed. When folded up with the help of Velcro fasteners, it doesn't immediately give off a pet vibe and could easily be a winter tote — it even looks like you could plop your small dog in there when carrying it.
Vintage MP Rider Satchel
Finally, we knew you would want something for yourself after all of these adorable dog accessories and we really liked the Vintage MP Rider Satchel (£42; $70). Made in India by Red Canoe, the bag is meant to evoke a vintage Canadian Mountie satchel and can fit any number of treats (which Houndworthy also sells) and dog walking necessities. Though they have several different designs, this bohemian chic bag gives off an equestrian vibe, which would fit in with many sports and lifestyles.


Continued here: