Posted: May. 2nd, 2013 | Comments 0 | Make a Comment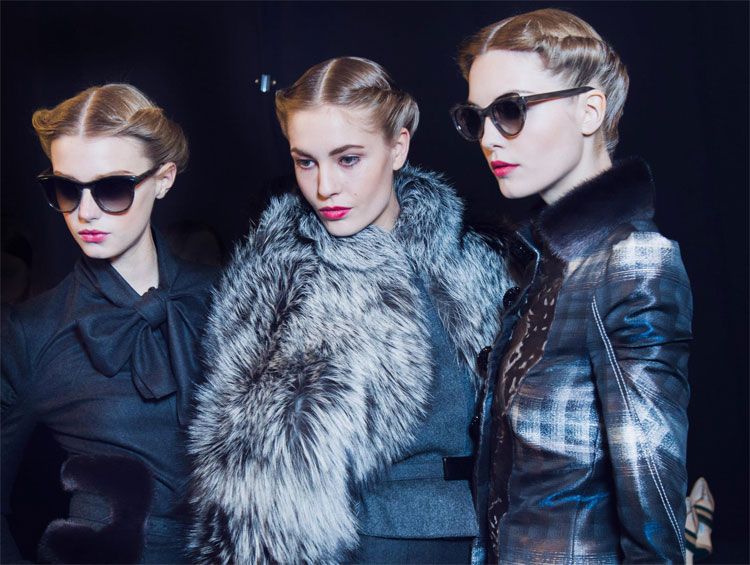 Photo Courtesy of Carolina Herrera
Lately we've been taking a trip down memory lane and looking at the way past decades and time periods influence today's fashion trends. The '20s are making a roaring comeback with The Great Gatsby and pin-up styles of the '50s can be seen in modern swimwear. But we can't help but notice the nod to the Forties that hit the runways at the most recent fashion shows. In the case of Fall 2013, we can say with pure confidence that history certainly repeats itself, thanks to sightings of slim skirts, shapely blazers, and frilly furs, of course.
Photo Courtesy of Carolina Herrera
Venezuelan-American designer Carolina Herrera tackled the decade at full force— practically her entire ready-to-wear collection for Fall 2013 was spot on with the Forties. A designer who prides herself on developing her own prints, this season's consist of feminine floral shapes, while materials like tweed, herringbone and fur remind us that this is, in fact, an autumn collection. Menswear-inspired get-ups are just as lavish as the skirts and dresses, and one silk charmeuse look with a fox-fur coat brings us right back to the Post-War Era.
Nina Ricci is another label that references the Forties in its latest collection. For Fall 2013, designer Peter Copping worked in hues of crimson, blush, ivory and black to create a line that is part Forties glam, part secretarial working girl from that era. Using satin, knits, wool, and fox fur, Copping mixed in long and lean Hepburn-esque silhouettes with a few fit-and-flared cocktail skirts. Our favorite look, however, comes in the form of a stunning red skirt suit combo whose barely-off-the-sholders cowl neck, slight bell waist and knee-length hem demand attention.
Photo Courtesy of Louis Vuitton
Louis Vuitton creative director Marc Jacobs went mid-century for Fall 2013 with the help of double-breasted jackets, sweeping astrakhan coats, and printed silk brassiere and slip sets for the boudoir. Romantic and tasteful, the Vuitton collection nods more to the film noir aesthetics of the Forties— perhaps looks that you would find behind closed doors— rather than the doe-eyed housewives and secretaries of the Post-War Era. Regardless, the line is true to Marc Jacobs form with the classic Louis Vuitton refinement. Luxe and sophisticated, the collection includes delicate slips, pajamas, and robes de chambre as well as daywear like cashmere, sequined, and silk-screened coats.
Photo Courtesy of Gucci
Frida Giannini brings azalea pink, fuchsia, and a Riviera blue accents into fall— a welcome pick-me-up in a season that is typically flooded with earth tones. Cabans, peplum jackets, and astrakhan play into the Forties trend, and hourglass dresses with exaggerated hips make it all the better. Fishnets, gloves, and patent oxford booties provide accents for several long-sleeved silk numbers and delicate black lace mesh to make this collection all the more theme-y. Silk cocktail dresses, gowns and jumpsuits with delicate details keep the collection tasteful. Though sequins, paillettes, feathers and silk fringe put the cherry on top of this inspired line, it remains structured, sexy and undoubtedly wearable for 2013 and beyond with pieces that we're sure to see on the Red Carpet this year.
Photo Courtesy of Miu Miu
At first glance, Miuccia Prada's offerings for Fall 2013 don't instantly scream "Forties," but at closer look, one will notice the feminine silhouettes, classic details, and period-esque accessories. Jackets with double sailor collars, astrakhan coats, and calf-skimming skirts are a-plenty in this collection, while accents like neckerchiefs, polka dots, gloves and pocketbooks that add on to the midcentury allure. Long coats and sweaters were worn over longer skirts that left much to the imagination and revealed just the ankle. Though the lengths and hems are conservative in a way, hourglass silhouettes did not go unnoticed on this runway— and even long column gowns with scoop necks and belted waists got their moment in the spotlight.
You might like :

Fashion News
Related Topics : Women Fashion, Runway, Gucci, Miu Miu, Louis Vuitton, Nina Ricci, Fall, Fashion News
Taken from: