Uma Thurman is the star of the Campari Calendar 2014.
The Kill Bill actress has been announced as the leading lady for the new iconic calendar, called 'Worldwide Celebrations'.
It was shot by renowned fashion photographer Koto Bolofo and each month focuses on a special festival from different cultures around the world.
Check out what Thurman had to say about the new calendar in the video: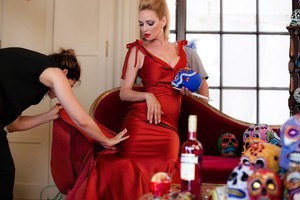 The 43-year-old beauty was stoked to be included.
"To be a part of such a globally-renowned project for an iconic worldwide brand is a pleasure. I particularly admire the theme this year as I am able to share a worldwide journey of discovery, passion and style with Campari lovers around the globe.
"Each month, the true essence of a 'global celebration' has been captured beautifully thanks to Koto, a highly-acclaimed photographer with a keen eye for creating intriguing, stimulating and truly dynamic imagery."
Koto - who has shot for the likes of Vogue and GQ magazines - was chosen to spearhead the calendar's 15th edition since he perfectly embodies the global theme, having been born in South Africa, raised in the UK and is now living in France.
"Campari's ethos of consistently creating striking and powerful imagery for its world-renowned Calendar aligns perfectly with what I consistently strive to achieve in my work," Koto said.
"To work on this project with a beautiful and talented actress such as Uma Thurman is an honour, and has provided me with an opportunity to push the Calendar's boundaries and defiantly capture the passion and style which is centred on this year's truly inspiring theme."
Uma follows in the footsteps of other Hollywood actresses, including Salma Hayek, Eva Mendes and Penelope Cruz, by posing for the Campari Calendar.
- BANG! Showbiz