Victoria Beckham unveiled a boyish, more chilled out look for next spring in New York, as her daughter Harper, perched on husband David's lap in the front row, stole the show
The pop star-turned designer still loves delicate pleats - which poked out in tennis white from underneath flirty asymmetrical mini-skirts - and belted body-hugging dresses.
But her new collection for spring-summer 2014 also offered up new silhouettes. She opened with a white round-shouldered blazer paired with loose, cropped black pants.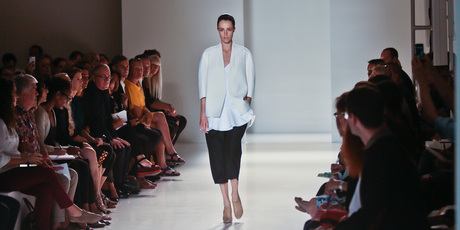 Loose-fitting tunics with flares low over the hips and a bit of gauzy transparency here and there joined the series of fun, kicky mini-skirts.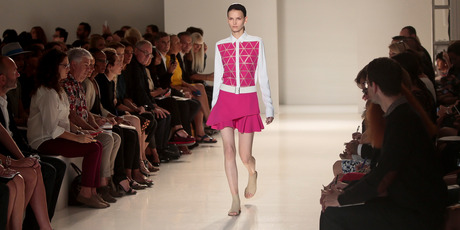 It was as if the former Spice Girl, having come into her own as a designer since she took the fashion world by surprise in her first runway show in New York in 2008, has finally allowed herself to breathe.
Her collection - like practically all those seen this fashion week - was dominated by black and white, with some grey and a touch of fuchsia or bordeaux.
Beckham traded her usual show space at the New York Library for the immaculate white of the Cafe Rouge hall - before the show she tweeted pictures of white booties she made people wear to keep the floor clean as they prepared.
She explained that she had decided to "explore new proportions" using boyish elements against a sense of femininity.
"What became most important to me was to convey a feeling of balance across the collection ... together with the merging of boy and girl sensibilities," said the 39-year-old mother of four.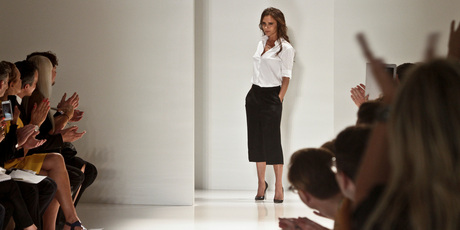 "I love a fitted dress, but there is a different side of me that is more relaxed."
There was at least one spectator in the hall who wasn't concerned with the fashion hullabaloo, and that was her two-year-old daughter Harper who bounced around on the lap of her footballer father.
Her hair in a tiny chignon, wearing a lightly pleated dress, Harper was the belle of the ball.
Even the super serious celebrity editor of Vogue Anna Wintour cracked a smile faced with the mini-Beckham.
- AFP