Designer Alexander Wang invited fans to a surprise event then told them via video that they could take as much FREE clothing as they could carry.
A video was made to document the mayhem at the one-time event that sees men and women go mental, snatching up as many pieces from the Fall '13 T by Alexander Wang collection as they can.
Check out the trampling, kicking, screaming, punching and stealing as the crowd goes wild at the free-for-all.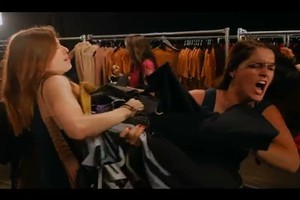 Wang enjoys experimenting with video and using it as a platform to display his creations with a sense of humour (remember the A$AP Rocky and Bon Qui Qui ad?) According to the designer, the secret event was to create a "destination that's unknown, mysterious, and fun, where people can connect."
- www.nzherald.co.nz