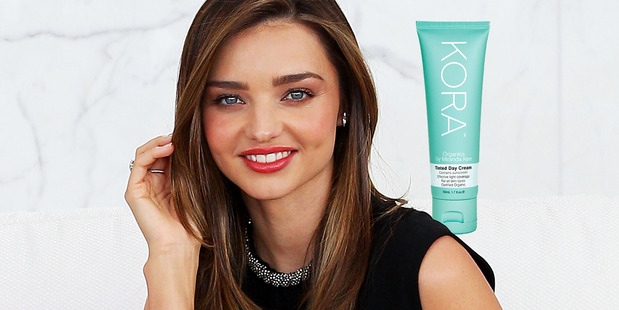 Miranda Kerr's Tinted Day Cream. Photos / Getty Images, Supplied
A tinted day cream from Australian supermodel Miranda Kerr's beauty product range has been panned for its level of sunscreen.
Kora Organics Tinted Day Cream - sold here via the internet - says "contains sun protection" at the top of four key factors on the label.
But internet cosmetics cop Paula Begoun reviewed it on her Paula's Choice website and gave it the worst possible rating.
She said it could not be relied on for protection against the sun.
Kora Organics says it has never marketed the product as a sunscreen, and it complies with Australian labelling rules.
PR and communications director Annie Kelly said it was sold as a tinted day cream and an alternative to foundation.
The facial cream is described on the Kora website as a "hydrating tinted daily tinted moisturiser with sunscreen".
A 50ml tube costs $66.54.
A topless Kerr tells customers on her website the organic products are the secret to her flawless skin.
The Cancer Society's marketing manager, Fiona Mawley, said any moisturiser should comply with sunscreen standards if it was using the word in its marketing.