Posted: Nov. 29th, 2012 | Comments 0 | Make a Comment
Photo Courtesy of Moni Moni
With the passing of Thanksgiving, the slow but sure emergence of Christmas lights, and a drop in the temperature, you know that the holidays are right around the corner. And with all the festivities comes an amped up luxury fashion wardrobe. Black and navy are typical colors for winter holiday wardrobes, but why not dress it up a little bit? Take a couple hints from that dazzling New Year's ball and glittering snow and add a little pizzazz to those drab hues with some fun metallic accessories. There are a number of designers who put out spectacular, sparkling handbags this season that we're dying to share with you.
The Italian Job by Moni Moni
This bag is definitely a force to be reckoned with— just take it from the name. This exquisite bag is deep enough to fit all of your day-to-day needs without getting in the way or appearing too bulky. A hand strap and a shoulder strap are convenient for toting this beauty all over town. Designer Cinzia Moniaci looked to two major style influences as inspiration for creating the bag: her Italian heritage and her favorite era of fashion, the sixties. These two motivational elements resulted in a retro sophistication that is synonymous with European movies of the sixties. Oh— and did I mention that the exclusive leather tote is hand-painted with rich 18-karat solid gold paint? This stunner could be your date to a New Year's Eve party for $3,250. Photo Courtesy of Moni Moni
The Caroline Clutch by Robyn Brooks
This adorable clutch is just as exquisite as The Italian Job, but is a bit more discreet. This luxe clutch was not made for the faint of heart— its materials include a textured python outer and suede lining. The Caroline comes in an array of color options, but we love Gunmetal for a chic metallic look that is ideal for the holiday season. At $675, its stylish simplicity is ideal for accompanying a formal or semi-formal party outfit and its size is excellent for tucking under your arm. However, it isn't too small— your cell phone, keys, sunglasses, cards and a tube or two of makeup will fit in this glitzy garment. An added plus to metallics is that they go with everything, no matter which color you decide to wear— and since they're essentially neutral, they'll never go out of style. Photo Courtesy of Robyn Brooks
The Metallic Mini Bag by Tory Burch
Our final pick for shiny frills comes from none other than Tory Burch. Her metallic mini bag falls somewhere between handbag and clutch, which is ideal for someone who wants a petite purse but doesn't want to have her hands full all night. Made from metallic leather, this $265 bag comes in black, gold and silver, and features a fold over closure with the classic Tory Burch logo hardware. A chain and leather strap with a 20" drop means this mini bag will be great hip candy for a hip holiday soirée. Photo Courtesy of Tory Burch
You might like :

Fashion News
Related Topics : Handbags, Accessories, Holiday, Women Fashion, Luxury Brands, Fashion News
related articles
advertisement

Scottsdale, AZ

Napa Valley, CA

November 10, 2012 | Bal Harbour, FL

Sanabis, Bahrain

November 12-15 2012 | Boston, MA

November 11th, 2012 | New York, NY

Los Angeles, CA

San Francisco, CA

Vancouver, BC

New York, NY

Richmond, VA

Brisbane, Australia

Finding the best in luxury can be a daunting task, which is why we've taken it on for you.

advertisement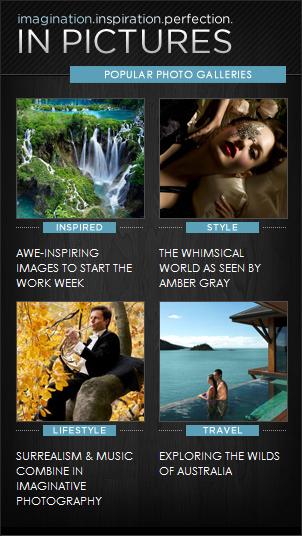 Original article: