Posted: Oct. 16th, 2013 | Comments 0 | Make a Comment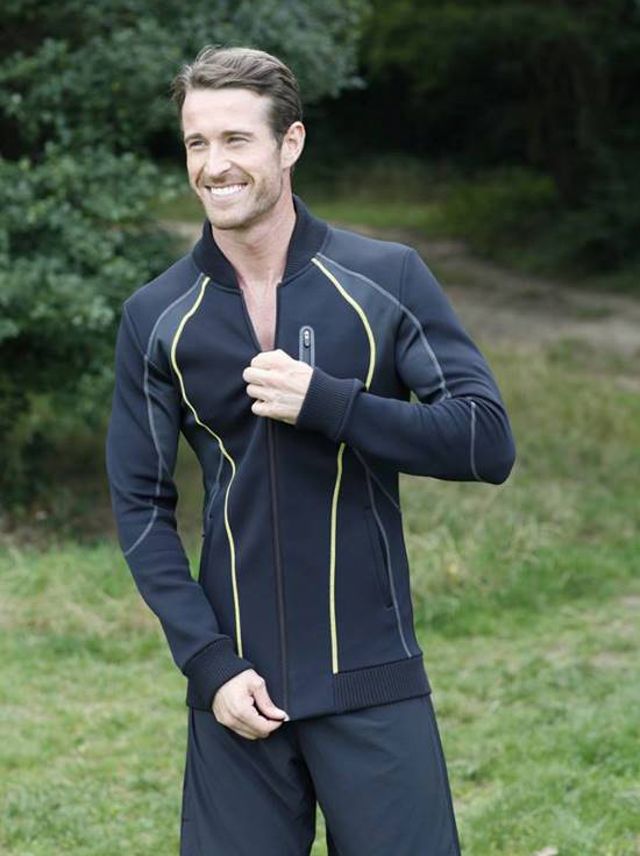 Photos Courtesy of Zaggora
Exercise is so much fun—said no one ever. It's a task that most of us dread even if we do (begrudgingly) admit once we hit that runner's high it feels pretty good. Not to mention the sense of accomplishment we feel after the fact. You do it for your mind, your body, your spirit, or maybe so you can justify the insane amounts of food you know you'll put away during the holidays. Whatever the reason, you usually try to get the most out of every workout, which could include everything from protein shakes to shorter sets. But what is your clothing doing for you? Is there anything about that old college hoodie that helps your workout? Zaggora has just introduced a new line of men's sportswear that will make you hot—no, not in a Ryan Gosling sort of way—literally warm so you can burn even more calories during your workout.
Founder Dessi Bell created the original hot pants when she was trying to lose weight for her wedding and discovered the pounds were just not coming off fast enough. After a year of trials, research and designs she gave away 500 garments to 500 bloggers and let the label take off on its own. Zaggora has since won a Nation Business Award in 2012, beating out big players like Groupon, for their excellent social media marketing strategies. Now years after starting her brand for women they've launched into menswear, allowing guys to workout and heat up as well. Offering sizes S to XXXL they've pretty much covered every body shape, whether you're just starting out or are a gym regular.
Thermofit technology allows the fabric to form a barrier around the skin harnessing the natural heat and keeping it in during your exercise to allow you to burn more calories. Commissioning studies in 2011 and 2012 from the University of Southern California and the Chelsea School of Sport at the University of Brighton, multiple tests confirmed that the hot wear could increase the rate of caloric burn. Reportedly there is a 6%-18% range of increased calorie burn during the workout and almost a 13% increased burn after the workout. And while those numbers may not seem particularly high anything that could shave some time off our workout we need to try.
So we tried the gear on ourselves, and while the neoprene material can get a little rough (think of it like wiggling into a dry wetsuit), it most definitely keeps you hot. Within seconds it was warm, and we hadn't even started running! If you don't usually sweat, be prepared to, because this material gets hot. While it takes some getting used to, you can absolutely tell that it's working. It can be a little difficult convincing yourself to stay in the hot wear after your workout, especially considering the amount of heat retained when you're looking for a cool down, but for a 13% calorie burn we stuck it out. Of course, we can't vouch for any instant weight loss, but it was definitely a step up from our normal routine.
You might like :

Forget the Flowers and Frills—These Are Some of the Best Spa Treatments For Men
Related Topics : Fitness, Exercise, Menswear,
View this article: