| Home > LifeStyle > Leisure > Zuri Bamboo Bikes are Cool, Sustainable and Create Jobs in Africa | |
| --- | --- |
Posted: May. 13th, 2013 | Comments 0 | Make a Comment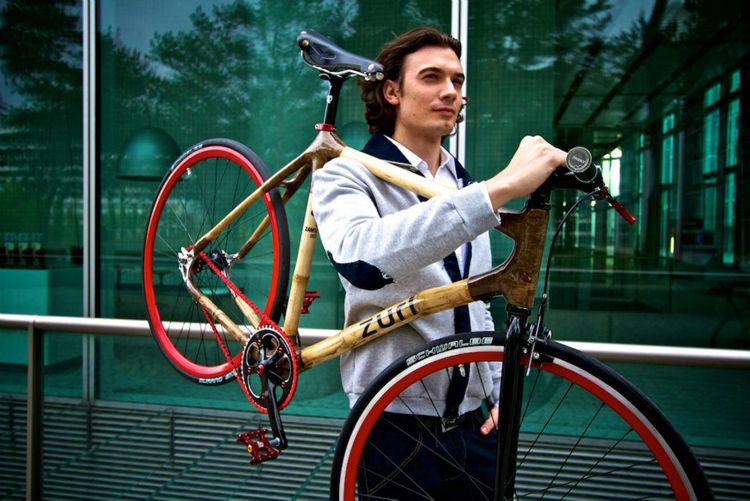 Photos Courtesy of Zuri
Bamboo is becoming one of the hottest materials to fashion luxury bicycles from, competing with common materials like aluminum and carbon fiber with its sustainability, light weight and durability. In a world where everyone wants to stand out from the crowd, having the unique look of a bamboo frame certainly doesn't hurt. Germany-born Zuri is one such company that hand builds bicycles in Africa from locally sourced bamboo, crafting eco-conscious cycles designed for both city cruising and mountain biking.
"For the construction of our frames we use slowly growing bamboo species that have a very high density and surface hardness," says the company. A universal material, bamboo is known for being tougher than wood and far lighter, making it a great material to use for bicycles. With four different models for sale, Zuri makes them individually for each customer. The Urban Fixie (available in gold and red) and Urban City are credited with minimal clean lines and bold colors, making them great attention-getting bikes to show off in the city. The Speed is designed to be a modern race bike, with maximum driving comfort and a balanced frame, while the Jungle strives to re-define the "hard tail" concept which absorbs energy.
Zuri works with Zambikes in Zambia, a company with years of experience building bamboo bicycles in Africa, and uses this strong partnership to promote "fair, honest management practices as well as social and healthy working conditions." With manufacturing taking place in Zambia, Zuri creates jobs (five for each bike sold) by first growing and harvesting bamboo, continuing on with seven different production steps.
The process starts with bamboo shoots, which are given around three years time to grow the best wall thickness before harvested. The third step is to dry the bamboo in an incubator for two months so that it won't crack later on. Next, the bamboo is measured, cut, and connected to create the frame — CNC machined aluminum tubes are used for the most stressed parts to ensure strength. To wrap up 50 hours of work, the frames are each personally signed based on the customer's preference, making them unique to each person.
Though the company only employs roughly 25 people in Zambia, they are proud of the difference they make. "For our co-workers this employment does not only mean short term financial security — it represents a handcraft, access to the education of their children, a value set in which they believe and a secured future."
Prices start at €2,490 (approximately $3,020).
You might like :

The Invisible Bicycle Helmet: Hovding
Related Topics : Bicycles, Lifestyle News

Taken from –